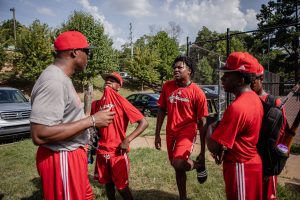 Legendary football coach Vince Lombardi once said that "Once you learn to quit, it becomes a habit." The baseball season hasn't started yet, so the thought of quitting should not be front and center. But once it does, many baseball players will think about and act on the option to quit.
They will quit because they aren't getting playing time, their team is not winning or they have options to do something else they feel is more important. Let's do a deep dive into some of these excuses:
"Playing time"
Rather than hoping that you get the playing time that you desire, speak to your coach right now about it. Ask your coach what he needs to see from you as a hitter during tryouts that gives him the confidence to give you at least 50 at-bats this season. Ask what your goals for the team should be and how you can achieve them.
If you already know you are going to get significant playing time this season, it would be a great idea to talk to your coach about the upcoming season. Use your success to serve others. That is what significance is all about. "Coach, how can I help you help other hitters on the team that are struggling with their swing?"
"My team isn't winning"
Winning is fun, but it is not everything, especially if you are trying to win at the game of life.
What your specific team goal for this season?
What are the Top 5 things that must happen for your team to accomplish this specific goal?
What are the Top 5 things that you must do to help the team accomplish this specific goal?
"More important things to do"
We all have to manage a lot of priorities. It is important to determine which priorities are the most important as well as the least because when the going gets tough, the tough get going.
That famous quote can mean a couple of things. First, it can mean that when your team is struggling this season, you will step up mentally and emotionally and help them exercise the grit to achieve the goal. It can also mean that when the team struggles, you will quit.
What will you do this season when the going gets tough? Because the going is always going to get tough in everything that you do.
Diamond Directors has been providing the blueprint of success for diamond sports athletes since 1998. Let us assess your swing in our next Hitting Combine.
Remember: Intelligence tops being smart.
For more information, visit www.diamonddirectors.com today. Also, check out our Digital Magazine.
---
C.J. Stewart has built a reputation as one of the leading professional hitting instructors in the country. He is a former professional baseball player in the Chicago Cubs organization and has also served as an area scout for the Cincinnati Reds. As founder and CEO of Diamond Directors Player Development, C.J. has more than 12 years of player development experience and has built an impressive list of clients, including some of the top young prospects in baseball today. If your desire is to change your game for the better, C.J. Stewart has a proven system of development and track record of success that can work for you.