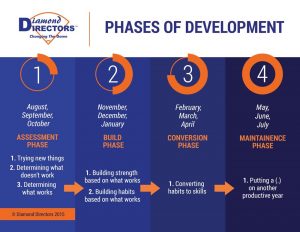 As a coach, fall baseball (August-October) is the best time of the year. Why? Because it's the beginning of a new baseball development season. Remember the quarterly breakdown of our training sessions:
August – October (Assessment)
November – January (Build)
February – April (Convert)
May – July (Maintenance)
And while fall is all about trying new stuff to determine what doesn't work and what does work, summer quarter (August-October) is where you start maintaining.
Like you, my hitters always want to hit for a higher average and produce more power. In the fall, they commit to trying new things with their stance and load that will improve their timing, tempo and tracking. This ultimately will allow them hit for a higher average and produce more power.
So, what do we need to do now this summer to prepare for the fall?
Be quiet
Be patient
Be committed
Even if you don't have the world's greatest coach, he will say something that helps you realize what you need to focus on to rebuild your swing. Listen more to your parents and teammates, too. Listening leads to learning, and learning leads to earning.
You want to earn a college baseball scholarship and professional baseball contract, right?
Patience means to wait without anger. I know you hear your coaches, parents and teammates tell you to be patient all the time. And I'm sure it annoys you most of the time when you hear it. The key is to wait without anger.
Also, remember, it takes 21,000 reps to build a habit and another 21,000 reps to convert a habit to a skill (see, "4 Drills You Can Use to Build Habits and Skills – Are you ready?"). There would be no need to be angry if you've put in the work.
If you haven't, you will lack patience.
Commitment requires you to first count the cost. It's going to take at least 42,000 reps annually before you can expect the results you dream about. Above all, my clients crave structure from me. I can get into the weeds with the best coaches teaching the content of hitting.
But, remember, context (why you want to be great) must come before content.
Remember: Intelligence trumps being smart.
For more information, visit www.diamonddirectors.com today. Also, check out our Digital Magazine.
__________________________________________________________________________
C.J. Stewart has built a reputation as one of the leading professional hitting instructors in the country. He is a former professional baseball player in the Chicago Cubs organization and has also served as an area scout for the Cincinnati Reds. As founder and CEO of Diamond Directors Player Development, CJ has more than 12 years of player development experience and has built an impressive list of clients, including some of the top young prospects in baseball today. If your desire is to change your game for the better, C.J. Stewart has a proven system of development and track record of success that can work for you.