It is my hope that you started to read my blogs last August, so that you feel prepared for the spring. Being prepared physically begins with being prepared mentally. This is why I develop my clients in phases throughout the year.
During the month of August through October, I assess my clients' current hitting skill sets. We also try new things during this time. November through January are months that we focus on building habits and strength. It's now time to covert those habits and strengths into skills February through April. May through July is when we will maintain what has been assessed in the fall through spring months.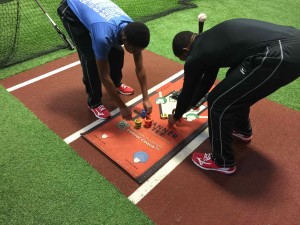 Lasting success doesn't happen by luck. It comes by way of a process. Don't worry if this information is new to you. I'll get you caught up and ready for the spring by the end of this blog.
Let's first assess your swing mechanics that include your stance/load, approach, contact, extension/finish and tempo.
1. Set up a tee 40 feet from two cones or any object that is spaced 5 feet from each other
2. Take 100 swings
Minimum goal of 80 balls hit between the target for professional hitters.
Minimum goal of 70 balls hit between the target for collegiate hitters.
Minimum goal of 60 balls hit between the target for high school hitters.
Minimum goal of 50 balls hit between the target for travel ball hitters.
Now that we know where you stand with your swing mechanics, let's make it a habit. How many reps does it take to build a habit? It takes 3,000.
If you're serious about wanting to compete as an elite hitter this spring, I recommend that you commit to the drill above for 30 days.
That's 100 swings per day, accomplishing the minimum goal above based on either where you are in your baseball career or where you'd like to be for 30 days. That's 3,000 reps. I assure you that you now have developed great strength and the habit of repeating your swing in addition to the ability to make adjustments.
After being assessed and the proper habits and strength are established, you now can convert your habits to a skill. A skill is that repeated thing you do without thought. Hitting a baseball gets real simple when you posses a skill to do it regardless of what level you are on. I'm not talking about bat speed and raw power here. Repeating your swing and making quick adjustments is a skill and skills pay bills.
I will share some great skill build drills in my next blog.
Remember: Good hitters don't work hard; they work smart.
For more information, visit www.diamonddirectors.com today.
BIO
C.J. Stewart has built a reputation as one of the leading professional hitting instructors in the country. He is a former professional baseball player in the Chicago Cubs organization and has also served as an area scout for the Cincinnati Reds. As founder and CEO of Diamond Directors Player Development, CJ has more than 12 years of player development experience and has built an impressive list of clients, including some of the top young prospects in baseball today. If your desire is to change your game for the better, C.J Stewart has a proven system of development and track record of success that can work for you.