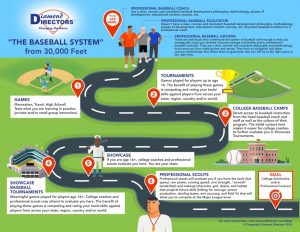 It's May, so we are not going to deal with maybes. You build habits, convert those habits to skills and maintain your skills. This time of year, travel baseball is in full swing and I love it. This is when players can compare their abilities to others across the country and, in some cases, your team may even compete against international teams.
At the end of the day, most Travel Baseball players are working toward a college baseball scholarship or getting drafted to play professional baseball.
So, remember what Antoine de Saint-Exupér said, "A goal without a plan is just a wish."
You must have a good work ethic, which includes self-management, self-efficacy and social skills, just to name a few, if you want to compete at the collegiate level.
You must have good baseball fundamental habits.
You must be in the right place at the right time to showcase those habits in front of college coaches, realizing that there just are too many games for baseball staff to show up at every Travel Baseball game.
You must also prove to college coaches that you can improve and maintain good habits. That's why attending their summer camps is the right place and the right time to earn a college scholarship.
As we have said, habits are things you do well repeatedly without thought (and college baseball players have good habits). And skills are things you do well repeatedly without thought while under stress (and professional baseball players have skills that pay the bills).
Check out this example: I love Chick-fil-A (CFA) sandwiches. How about you? Here are the essentials of that Chick-fil-A sandwich:
It's a boneless breast of chicken seasoned to perfection, freshly breaded, pressure cooked in 100% refined peanut oil and served on a toasted, buttered bun with dill pickle chips. It's also available on a multigrain bun. This is what you get at every CFA in the country when you order that sandwich.
What can a college coach expect from you when he sees you at your next Travel Baseball game and/or summer camp?
Is your ability to get things done based on your mood, having your lucky bat and/or perfect weather?
How is your coach doing with regards to helping you navigate the college recruiting process?
To help keep your skills sharp, we have introduced a new type of Skill Build—our Virtual Skill Build—, where I can help you develop hitting skills anytime, anywhere using anything. Check it out.
Remember: Intelligence tops being smart.
For more information, visit www.diamonddirectors.com today. Also, check out our Digital Magazine.
C.J. Stewart has built a reputation as one of the leading professional hitting instructors in the country. He is a former professional baseball player in the Chicago Cubs organization and has also served as an associate scout for the Cincinnati Reds. As founder and CEO of Diamond Directors Player Development, C.J. has more than 22 years of player development experience and has built an impressive list of clients, including some of the top young prospects in baseball today. If your desire is to change your game for the better, C.J. Stewart has a proven system of development and a track record of success that can work for you.