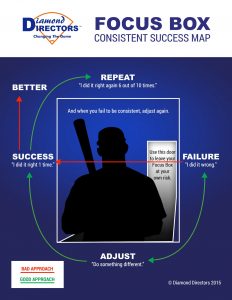 The mindset of an elite baseball player: Failure. Adjust. Success. Repeat. I spend about 90 percent of my time teaching my hitters how to think. For the remainder of time, I teach them how to hit.
The premise is this: Hitting is complex. And here's my promise to you—I will make hitting simple by changing your mindset.
Obviously, the desired outcome in any game is to get a hit. If you can get a hit 30 percent of the time in the Majors, you are going to be a household name.
Starting in the fall, I get my hitters to focus on trying new things to see what works and what doesn't work. We try new stances, loads and approaches to the ball. Coaches commonly say that fall ball is all about "development." I hold the coaches of my clients to that premise.
This is what elite hitters learn to do that leads to hits. They learn to:
Get loaded successfully 90 percent of the time
Get loaded on time 90 percent of the time
Get loaded on tempo 90 percent of the time
Track pitches successfully 80 percent of the time
Repeat a good approach to the ball with the barrel of the bat 70 percent of the time
Hit the ball hard regardless of the outcome 50 percent of the time
Which leads to:
Getting a hit 30 percent to 40 percent of the time
Hitting for power 10 percent to 20 percent of the time
So if your goal is to get a hit 30 percent to 40 percent of the time, failure is unavoidable. Elite hitters will make the immediate adjustment. Making an adjustment simply means to do something different that will eventually lead to success.
When you experience success, focus on repeating it rather than trying to do it better. And when you try to repeat and it leads to failure, make an adjustment.
Let us assess your swing in our next Hitting Combine.
Remember: Intelligence tops being smart.
For more information, visit www.diamonddirectors.com today. Also, check out our Digital Magazine.
---
C.J. Stewart has built a reputation as one of the leading professional hitting instructors in the country. He is a former professional baseball player in the Chicago Cubs organization and has also served as an area scout for the Cincinnati Reds. As founder and CEO of Diamond Directors Player Development, C.J. has more than 12 years of player development experience and has built an impressive list of clients, including some of the top young prospects in baseball today. If your desire is to change your game for the better, C.J. Stewart has a proven system of development and track record of success that can work for you.