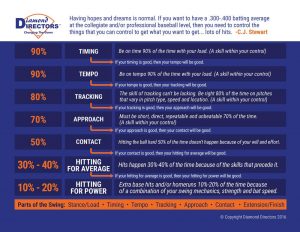 He who owns the definition owns the movement. Focusing on getting a hit is the "Fool's Focus." Fool is defined as unwise.
Here are 10 things that I lack knowledge of and am unwise about:
Giving birth
Flying planes
Playing golf
Calculus
Coaching basketball and football
Car repair
Cooking lasagna
Purchasing a home
Stock market
Being a politician
In conversations about giving birth, I would say to a woman, "You just need to push the baby out." Or, if I was discussing the stock market with friends, I'd say, "Buy low and sell high," because that's what I heard on TV several times.
My statements may be deemed as foolish because I lack understanding and wisdom about the process of giving birth and purchasing stocks.
A fool isn't stupid (not doing the right thing when you know better). A fool is ignorant (not knowing what to do, but able to do it) and unwise. The good news is that a fool can learn. I can take the time to learn about the birth process and become a certified OB/GYN. I can learn about the process of buying and selling stocks, and become a stock broker.
Great hitters don't focus on getting hits. Instead, they focus on the process of getting hits. There are things in the process of getting hits that you can control. You control them with skill. If you do, you can make lots of money to pay your bills.
Major Leaguers do these four things with skill (something you can do best while under stress):
Load on time
Load on tempo
Repeat their approach
These four controllable skills allow them to do these three things:
Hit the ball hard
Get hits
Hit for power
Getting hits is No. 6 at the bottom of the list.
You reap what you sow, so remember, there's no harvest without hardship.
Remember: Intelligence trumps being smart.
For more information, visit www.diamonddirectors.com today. Also, check out our Digital Magazine.
BIO
C.J. Stewart has built a reputation as one of the leading professional hitting instructors in the country. He is a former professional baseball player in the Chicago Cubs organization and has also served as an area scout for the Cincinnati Reds. As founder and CEO of Diamond Directors Player Development, CJ has more than 12 years of player development experience and has built an impressive list of clients, including some of the top young prospects in baseball today. If your desire is to change your game for the better, C.J. Stewart has a proven system of development and track record of success that can work for you.