I was the kid who people accused of asking too many questions. Do you know any kids like that? But here's the thing – I'd usually only ask questions to people I felt were intelligent enough to answer them with clarity.
For me, questions were the answers. More than 30 years later, I still ask a lot of questions. When I'm not asking questions, it's for three reasons. Either I feel you won't respond, you won't have an answer or your answer won't be clear.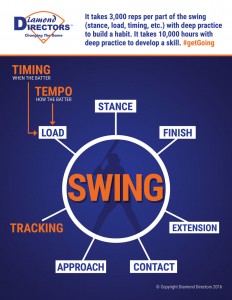 The problem for a lot of young hitters today is that they're afraid to ask their coach questions because of the following three reasons:
No response
As an immature professional swing coach in the late '90s and early 2000s, I felt that my hitters should simply do what I said and not ask questions. Deep down, I didn't want them to ask questions. I was afraid I wouldn't have the answers. So often, my response was no response. The major problem with failing to respond to a question is that, too often, if there is no information, there is only imagination. The perception is that if you don't respond, you don't care.
No answer
A well intended man or woman serving as a coach can respond to a challenging question by saying, "I don't have an answer." A player can live with that for a short period of time. But as a coach, it is your responsibility to find the answers. Coaches provide high direction and high support. If you don't, you aren't a coach.
Responsibility – the state of being accountable to something or someone
No clarity
If the world's greatest hitting coach was teaching you the fundamentals of hitting, but in a foreign language, would your hitting skills improve? Before I became more aware of my shortcomings as a communicator and listener, I would respond to any and all questions, only to realize later that my mouth was moving, but my speech wasn't clear. I was talking, but I was failing to connect the dots for my clients.
The fundamentals of hitting really aren't that hard. The secret is in developing the whole person – a solid baseball who has excellent character and competence. Without clarity, there is no competence.
When it comes to hitting, we must adhere to the essentials:
Stance/Load

Timing
Tempo
Tracking
Approach
Contact
Extension/Finish
That's why my clients adhere to my ATBATS program – a proven, trademarked, comprehensive system of professional training and development designed to improve baseball performance through the improvement in specific areas of the development process:
The ATBATS Methodology is:
A – Assessment
T – Training for strength
B – Basics
A – Approach
T – Training for skill
S – Situational hitting
As you move toward baseball tryouts this spring, here are some questions you should ask your coach before you take that journey:
How do you measure success?
How do you measure failure?
How do you define success?
How do you define failure?
What is the mission of this team?
What is your short-term vision for this team?
What is your long-term vision for this team?
Why do you coach?
What is your coaching philosophy?
Describe the best player who has ever played for you.
Describe the player who was most challenging for you to coach.
What keeps you up at night?
What aggravates you the most about the culture of baseball?
How has coaching baseball made you a better person?
How do you respond to stress?
What are the various roles of hitters on your team?
How will you evaluate hitters based on those roles?
How will develop hitters?
Remember: Intelligence trumps being smart.
For more information, visit www.diamonddirectors.com today. Also, check out our Digital Magazine.
BIO
C.J. Stewart has built a reputation as one of the leading professional hitting instructors in the country. He is a former professional baseball player in the Chicago Cubs organization and has also served as an area scout for the Cincinnati Reds. As founder and CEO of Diamond Directors Player Development, CJ has more than 12 years of player development experience and has built an impressive list of clients, including some of the top young prospects in baseball today. If your desire is to change your game for the better, C.J Stewart has a proven system of development and track record of success that can work for you.