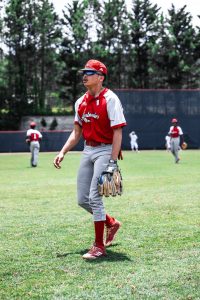 I have people on my team who will put me in check when I flex. The Urban Dictionary defines flexing as acting as if you are more, or have more, than what really exists.
People often flex in order to determine the standards, expectations and accountability of others. That's why I have standards, expectations and accountability already in place.
By 2026, I want to be recognized as the greatest coach alive. I will be 50 years old. That level of success will allow me to serve others by the millions in an intentional and significant way.
My personal mission in life is to be significant by serving millions and bringing them into a relationship with Christ, starting with my wife, Kelli, and our daughters, Mackenzi and Mackenna.
Life can be a sea of calm or dangerous water:
S — Standards
E — Expectations
A — Accountability
One of the standards I must uphold in order to achieve my goal is to not be stupid. I define stupidity as knowing the right thing to do and not doing it. To be stupid is to be stuck. To struggle is to be in a position to achieve a specific goal that will undoubtedly cause occasional setbacks due to mistakes made out of ignorance.
The bridge between stupidity and struggle is humility. To humble myself, I don't think less of myself, I think of others more. I must surround myself with people who expect greatness from me as well as themselves. Hurting people hurt people.
I must hold myself accountable when I am knowingly stupid, as well as when I unknowingly make mistakes from a position of struggle.
What is the success you unapologetically dream of achieving?
How will you use that success to serve at least a million people?
What's one thing you are currently doing that is stupid—something that will prevent you from being successful?
Who are three people who unapologetically expect greatness from themselves as well as from you?
Do you hold yourself accountable when you make stupid decisions?
Remember: Intelligence tops being smart.
For more information, visit www.diamonddirectors.com today. Also, check out our Digital Magazine.
---
C.J. Stewart has built a reputation as one of the leading professional hitting instructors in the country. He is a former professional baseball player in the Chicago Cubs organization and has also served as an area scout for the Cincinnati Reds. As founder and CEO of Diamond Directors Player Development, C.J. has more than 12 years of player development experience and has built an impressive list of clients, including some of the top young prospects in baseball today. If your desire is to change your game for the better, C.J. Stewart has a proven system of development and track record of success that can work for you.