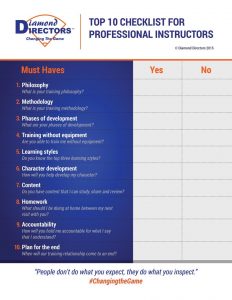 My early coaching days consisted of me building walls to keep parents out. This helped me stop them from seeing how ignorant I was with respect to developing their sons.
Development is a popular, yet trite, buzzword in the world of sports. But it demands an outcome. A coach leads people to a destination, just like the pilot of a plane does.
All of the coaching clinics I have visited dealt with content. They taught us how to teach hitting, but never about how to become our best selves, which is a much needed context for coaches.
Coaches are human. Many of us are hurting, which is why we often hurt kids. Hurting people hurt people. It's just the way it is.
What keeps me focused on serving people is what I call, "The 3 C's" – Context before Content before the Contest.
Context – Who am I and why am I coaching?
Content – What do I have to give my players?
Contest – The game is where my players get to test that I've given them.
I recently had seven of my clients, ranging in ages between 12-18, ask their coaches what they strive to improve upon as a coach. Here are their responses:
"My job and my goal with every young person I coach is to get him to maximize his talent and to assist him with achieving his goal. I also want him to buy into the team concept. As a former Army guy, I've learned that you're only as strong as the weakest link. Build individuals to promote the team."
"Continuing to build relationships with players during the off season that will last a lifetime."
"I watch a lot of baseball and like to be a student of the game, so I incorporate ideas from other coaches. If I see a new drill or variation of a drill, I'll see if it is effective with my team. I'm constantly learning and applying it wherever possible."
"As a coach, I believe you should always be learning something new and improving all aspects of your game. You're either growing, getting better, or shrinking and allowing your program to get passed by someone. I'm always investigating how to maximize practice time and maximize the mental game."
"Something I try to work hard on and need to improve is the atmosphere we create in practice. We have several players each year that graduate and end up playing at a multitude of colleges. From D1 to JUCO, they are all completely different than the norm in high school baseball. I want my guys to be as prepared as possible, so we run our practices like college programs. College may be the goal, but we also have to keep guys prepared for games of significance. The vigor and perfection we expect do not come by luck. We have to work on those things, and we will continue to better our methods."
"I feel like I am always working on my coach/player relationship. I always want to be an open door for any player with any problem, not just baseball. I still stay in touch with most of the former players. I get calls from them from time to time about something in their life. For me, that is one of the greatest rewards, because that means I meant enough in their minds for them to have the confidence to come to me when a problem comes up. I like to be the 'good guy,' I guess you would say, but that usually means when I get upset, players know they have let it go too far."
"I am trying to get more of my players in college, so that they are able to get a good education and, in the future, provide for their family."
Remember: Intelligence trumps being smart.
For more information, visit www.diamonddirectors.com today. Also, check out our Digital Magazine.
_____________________________________________________________________________
C.J. Stewart has built a reputation as one of the leading professional hitting instructors in the country. He is a former professional baseball player in the Chicago Cubs organization and has also served as an area scout for the Cincinnati Reds. As founder and CEO of Diamond Directors Player Development, CJ has more than 12 years of player development experience and has built an impressive list of clients, including some of the top young prospects in baseball today. If your desire is to change your game for the better, C.J. Stewart has a proven system of development and track record of success that can work for you.