It is June and it is hot. You're playing lots of games with few recovery days. You continue to make the sacrifice, but you have to be smart about how you prepare for success.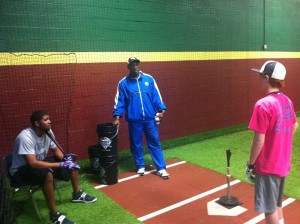 Remember: "Failure to prepare is preparing to fail."
When most athletes think about strength, they typically think about spending time in the weight room. That's obviously a great place to tear your muscles down so that you can repair and return stronger. But physical strength is only a small part of the success equation for baseball and life.
For the summer months, let's develop a habit of being stronger mentally, emotionally and physically – and with baseball knowledge.
That old saying is true: Baseball is 90 percent mental and 10 percent physical. I truly believe your actions are based on how you think. Superior athletes want to be confident at all times. For them, pressure is unnecessary created stress. Does a lion trainer get stressed in a cage of 10 lions? If he's a skilled trainer, the answer is no.
If you prepare for success, you won't even notice the so-called pressure situations that some of your teammate describe. For at least two days per week, for the month of June, I'd like for you to read some of these awesome Mental Game of Baseball blogs. Behavior follows thinking.
With June packed full of baseball games, it can be difficult to find emotional relief. When you're stressed, it may feel as though your behavior is out of control. In a difficult or emotionally demanding situation, you can get angry and behave irrationally.
One of the best ways to handle the pressure is to schedule in some down time. For example, for every hour you play in a baseball game, schedule at least two hours of emotional stress release activities. My favorite down time activities included playing my PS3, swimming, attending a Major League Baseball game, reading blogs or volunteering to help younger baseball players. Regardless of how old you are, you can find an activity that works.
In our next blog, I'll provide more insights on the importance of being both mentally and physically stronger for summer baseball action.
Good hitters don't work hard; they work smart.
For more information, visit www.diamonddirectors.com today.
BIO:
C.J. Stewart has built a reputation as one of the leading professional hitting instructors in the country. He is a former professional baseball player in the Chicago Cubs organization and has also served as an area scout for the Cincinnati Reds. As founder and CEO of Diamond Directors Player Development, CJ has more than 12 years of player development experience and has built an impressive list of clients, including some of the top young prospects in baseball today. If your desire is to change your game for the better, C.J Stewart has a proven system of development and track record of success that can work for you.