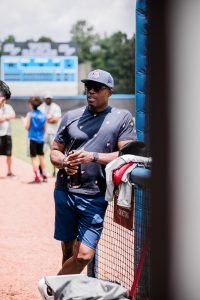 Fall baseball (August-October) is coming. Are you ready? Whether you are ready or not, there are four bases that every player must need to cover in order to have a productive fall season.
As my Diamond Directors' clients know, those four areas include:
Committing to trying new things.
Setting a specific goal.
Making your goal a crazy one.
Executing with the help of a good team.
Coaches often preach that the fall season is the time for development, yet rarely are the players allowed to do it. It's time for you to take control of your development by committing to trying new things this fall so that you can determine what doesn't work and what does work.
Next, you must commit to building habits and strength during your winter workouts (November-January) based on what works.
Making specific goals can be scary, but it's important so that you can know if and how you are achieving success. When I was younger, I was apprehensive about setting specific goals because I was afraid to fail. Now, I not only set them, but I make them as crazy as I can, which helps take my skills to the next level.
Goals that are easy to achieve and/or are impossible to achieve are a waste of time. But crazy goals stretch you—they force you to join a great team of people.
Your Travel Baseball team is not enough for you to become your best. I don't know everything you need in order to help you execute your goals, but I know that a crazy specific goal will require that you have some accomplished people on your team.
Remember: A goal without a plan is a wish.
To help keep your skills sharp, we have introduced a new type of Skill Build—our Virtual Skill Build—where I can help you develop hitting skills anytime, anywhere using anything. Check it out.
Remember: Intelligence tops being smart.
For more information, visit www.diamonddirectors.com today. Also, check out our Digital Magazine.
C.J. Stewart has built a reputation as one of the leading professional hitting instructors in the country. He is a former professional baseball player in the Chicago Cubs organization and has also served as an associate scout for the Cincinnati Reds. As founder and CEO of Diamond Directors Player Development, C.J. has more than 22 years of player development experience and has built an impressive list of clients, including some of the top young prospects in baseball today. If your desire is to change your game for the better, C.J. Stewart has a proven system of development and a track record of success that can work for you.