How did you like last week's blog? If you haven't read it yet, I encourage each of you to look it over, because it sets the context for this week's blog.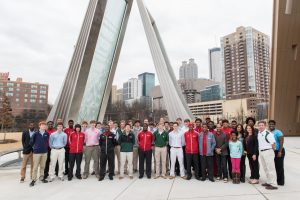 The weather in Georgia is getting warmer, and so is the anxiety level of parents.
I believe there are three things that cause parents at the baseball field to scratch their heads when they watch from the bleachers.
What is my sons full potential?
Can our coach help our son reach his full potential?
Can our son compete as a student-athlete (baseball) at the collegiate level?
Can their son's coach help their son reach his full potential?
I believe that your child's full potential starts with how far he wants to go. This is your opportunity to dream. If you can't dream, you aren't living. Reaching your full potential begs that the coach literally finds out how far a player wants to go. It's a simple question that can be answered with clarity with 10 words or less, in 10 seconds or less.
"If you don't know where you are going, any road will take you there."
The player who only wants to play in high school will learn lots of life lessons through baseball and can develop some long lasting relationships. He may struggle to match the desire and passion of teammates that are striving to compete at the collegiate level and beyond.
The player who wants to compete at the collegiate and professional levels also will learn lots of life lessons and develop amazing relationships. The difference is that his high school baseball experience is a committed means to an end.
You have to really understand who your son is and why he's playing baseball to understand what his full potential is.
I admire several great coaches in Atlanta, including Russell Wrenn, The Westminster School; Lance Oubs, The Lovett School; Mike Brady, The Walker School; and Michael Bailey, Whitfield Academy. These guys can help their players reach their full potential because they possess these three values and ask these three questions.
Values
Humility – thinking of others more without thinking less than of yourself
Integrity – doing the right thing even when you can do the wrong thing
Loyalty – faithful even when experiencing failure
Questions you should ask
How far do you want to go in baseball?

What sacrifices are you willing to make to reach your goal?

What commitments are you willing to make to reach your goal?

Can our son compete as a student-athlete (baseball) at the collegiate level?
Good college coaches are looking for these three things:
Athleticism – Can you perform without me teaching you?
Aptitude – Can you apply what I teach you?
Desire – Will you practice and compete when things aren't going your way?
I played college baseball at Georgia State University (Division I) and DeKalb College (Junior College). My coaches didn't spend a lot of time teaching us how to play baseball. They made us aware of what to do, expected us to make adjustments, and consistently apply what we learned from our failures on the field. Just know that too much failure gets you out of the lineup and chalking the lines before games.
My point is that if your son can play baseball, he must have a keen sense of awareness, an ability to make quick adjustments and can consistently apply what's learned. Coaches won't spend individual time pleading for them to perform.
Next week, I will simplify how to earn to a college scholarship. It's not as hard as you think it is if your son has athleticism, aptitude and desire.
Remember: Intelligence trumps being smart.
For more information, visit www.diamonddirectors.com today. Also, check out our Digital Magazine.
BIO
C.J. Stewart has built a reputation as one of the leading professional hitting instructors in the country. He is a former professional baseball player in the Chicago Cubs organization and has also served as an area scout for the Cincinnati Reds. As founder and CEO of Diamond Directors Player Development, CJ has more than 12 years of player development experience and has built an impressive list of clients, including some of the top young prospects in baseball today. If your desire is to change your game for the better, C.J Stewart has a proven system of development and track record of success that can work for you.