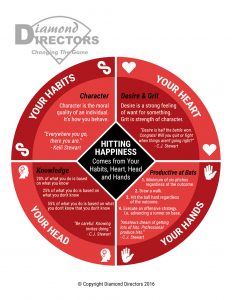 Hitters want to be happy. Are you? How are your habits, your heart, your head and your hands?
What is the financial value that you place on happiness as a hitter? What are you willing to give up to be happy? What are you willing to start doing? Who are you willing to stop spending time with?
These are a lot of questions to answer. But, it's a fact that 1 percent or less of all youth that play baseball will ever play at the Major League level. I've developed lots of Major League hitters, and the first thing I assess and build upon is their character.
Poor character will cause you to focus on success more than significance. Success is based on what you do, while significance is who you are. At the end of the day, even if you are the greatest hitter of all time, the need for a cure for cancer is more important.
Your Habits – Character
"Everywhere you go, there you are." – Kelli Stewart
Character is the moral quality of an individual. It's how you behave.
Your Heart – Desire and Grit
"Desire is half the battle won. Congrats. Will you quit or fight when things aren't going right?" – C.J. Stewart
Desire is a strong feeling of want for something. Grit is strength of character.
Your Head – Knowledge
20% of what you do is based on what you know
25% of what you do is based on what you don't know
55% of what you do is based on what you don't know that you don't know
Your Hands – Productive at bats
"Amateurs dream of getting lots of hits. Professional produce hits." – C.J. Stewart
Minimum of six pitches regardless of the outcome
Draw a walk
Hit the ball hard regardless of the outcome
Execute an offensive strategy., i.e., advancing a runner on base
The reason why the physical part of hitting happiness occurs last is because it accounts for so little of your success. If your habits, your heart and your head is healthy, your hands will follow with ease.
Remember: Intelligence trumps being smart.
For more information, visit www.diamonddirectors.com today. Also, check out our Digital Magazine.
BIO
C.J. Stewart has built a reputation as one of the leading professional hitting instructors in the country. He is a former professional baseball player in the Chicago Cubs organization and has also served as an area scout for the Cincinnati Reds. As founder and CEO of Diamond Directors Player Development, CJ has more than 12 years of player development experience and has built an impressive list of clients, including some of the top young prospects in baseball today. If your desire is to change your game for the better, C.J Stewart has a proven system of development and track record of success that can work for you.