A hitter that lacks confidence is like a car without an engine. We know we need confidence, and we also know, that like an engine of a car, it's difficult to build.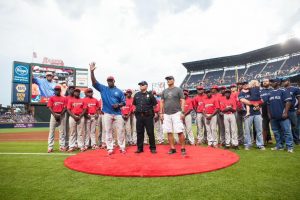 For me, baseball games are nothing more than testing grounds that reveal what you worked on in the previous practice and what you need to work on at the next practice. If you are facing good pitching, you likely will have experienced a lot of failure.
Confidence is the belief that you can rely on something to do something. Becoming and maintaining elite status as a hitter requires confidence in your knowledge of hitting, your hitting mechanics and your ability to make adjustments.
Here are three surefire ways to build your confidence this summer:
Knowledge of hitting
Knowledge is power if, and only if, you understand what you need to do. Millions of kids aspire to become Major Leaguers, and choose to learn by doing. Learning by doing is great if your dominate learning style is kinesthetic (learning by doing). There really isn't a lot to understand about hitting. You must first become aware of what you need to understand, followed by time spent doing, failing, succeeding, questioning and doubting what you need to understand. When you understand all you need to understand, you can do all that you desire to do.
Here are the basic fundamental parts of the swing that I want you to be aware of.
Stance
Load
Timing
Tempo
Tracking
Approach
Contact
Extension
Finish
It's takes 3,000 reps to build a habit, so that's nine fundamentals times 3,000, for a total of 27,000 reps.
Now, test the knowledge of your coaches, teammates and parents by asking them to name the parts of their swing in sequence. Next, ask them how many reps it takes to build a habit.
Hitting fundamentals
Nothing works without fundamentals. Fundamentals are the essential nature of something. Without fundamentals, nothing works on or off the baseball field. The fundamental parts of the vehicle you ride in to your games include the engine, tires and the battery, just to name a few. Remove those en route to your game and you'll be late.
It's worth repeating, so here again are the essential fundamentals of hitting. This time I added the word essential to make me appear intelligent.
Stance
Load
Timing
Tempo
Tracking
Approach
Contact
Extension
Finish
These fundamentals are nice to know if you want to be a hitting coach and a fan of baseball like me. They are "must haves" if you want to be an elite hitter that performs on the field for fans.
I spend a lot of time developing the load phase of my hitters. One of my favorite drills for this is the Shuffle Drill. Remember, that it takes 3,000 reps to develop a habit. Now, challenge your coaches, teammates and parents by asking them to execute the drill as often as you.
Check out our Tip of the Week – The Ball Toss Drill
Making adjustments
If making adjustments isn't important, neither is breathing. As humans, we make mistakes all the time. If you don't make adjustments, you'll be living a chaotic and miserable life, and become a threat to society.
Hitting a pitched baseball is a complicated thing that is made simple when you have developed good hitting fundamentals. If hitting fundamentals is the cake, making adjustments can be considered one of the ingredients used as the icing.
I love the Ball Toss Drill because it forces my hitters to focus on making adjustments. After 300 reps or so, present the challenge by asking them to execute the drill as often as you.
You now have what you need to be confident in your knowledge of hitting, the essential fundamentals of hitting as well as how to make adjustments. Finish the summer with an A+ work ethic, be confident and see results come quick and often.
Remember: Good hitters don't work hard; they work smart.
For more information, visit www.diamonddirectors.com today. Check out our digital magazine.
BIO
C.J. Stewart has built a reputation as one of the leading professional hitting instructors in the country. He is a former professional baseball player in the Chicago Cubs organization and has also served as an area scout for the Cincinnati Reds. As founder and CEO of Diamond Directors Player Development, CJ has more than 12 years of player development experience and has built an impressive list of clients, including some of the top young prospects in baseball today. If your desire is to change your game for the better, C.J Stewart has a proven system of development and track record of success that can work for you.
TAGS: