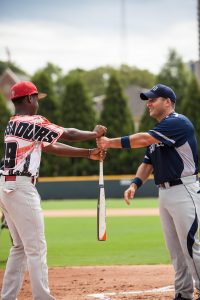 August is right around the corner, so let the stress to make the best travel team begin. I'm a fan of travel baseball. It allows you to assess yourself against players across the country and the world. Each player is committed to competing for limited spots at the collegiate and professional levels.
Remember, travel baseball requires a lot of your time and treasure. The hope is that these investments in time and money can help develop your talent.
To give you a leg up, here are, what I call, the four A's – traits you must have in order to make any travel team:
Attitude
A good attitude isn't impossible to teach, but most travel baseball coaches don't have the time or talent to teach it. So, you better have it. Baseball is a game of failure, and having a good attitude allows you to solve problems fast as well as make it a pleasure to be around you.
Athleticism
The definition of an athlete is simple – it's anyone who participates in a sport. All you have to do is show up, and you're referred to as an athlete. Athleticism is the physical ability to compete in the sport without prior knowledge of any or all of the fundamentals. It is a super power that allows you to drive the ball as a hitter, even when you don't have the "right grip" or the "right bat."
Aptitude
Aptitude is the ability to learn and apply. Coaches want to know that when they teach you something, you can apply it right away, because they have lots of players and little time to prepare every one for a game. Are you familiar with the S.A.T. (Scholastic Aptitude Test) test – the one you take in high school that informs colleges of your ability to learn information and apply it?
Adjustments
Making adjustments is a severely under-coached skill. Coaches can easily tell you when you did something wrong or right, but often won't give you the mental space to make an adjustment. The skill set is the ability to do something different. Most coaches want consistent line drives. But if you try to hit ground balls (making an adjustment), because you're unintentionally hitting fly balls, you'll find yourself being rewarded or scolded. Ground balls can lead to line drives, and coaches should reward you for making the adjustment.
Remember: Intelligence trumps being smart.
For more information, visit www.diamonddirectors.com today. Also, check out our Digital Magazine.
BIO
C.J. Stewart has built a reputation as one of the leading professional hitting instructors in the country. He is a former professional baseball player in the Chicago Cubs organization and has also served as an area scout for the Cincinnati Reds. As founder and CEO of Diamond Directors Player Development, CJ has more than 12 years of player development experience and has built an impressive list of clients, including some of the top young prospects in baseball today. If your desire is to change your game for the better, C.J. Stewart has a proven system of development and track record of success that can work for you.