It's hot in the summer and the good hitters have hot bats while everyone else watches them perform. Is your bat hot right now?
One of my favorite sayings is that "a goal without a date is a wish." I have three important dates for elite hitters. If you aren't an elite hitter and you don't wish to become one, please stop reading now. I'm speaking to dedicated hitters only with this blog.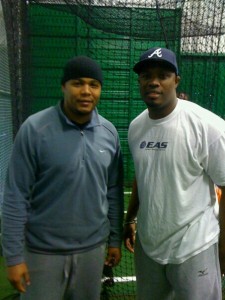 dedication: 1
the quality of being dedicated or committed to a task or purpose.
"his dedication to his duties"
synonyms: commitment, application, diligence, industry, resolve, enthusiasm, zeal, conscientiousness, perseverance, persistence, tenacity, drive, staying power; more devotion, commitment, loyalty, adherence, allegiance
antonyms: apathy, laziness, indifference
Hitting is easy and made difficult when you don't have a plan. I have a great plan for you for July based on my successful plans of developing pre-teen males to become MLB for more than 15 years.
July 10
It pains me to watch Little League hitters on their way to the professional level rely on luck to get hits. Luck doesn't last. The skilled hitters will get to a good load position. It isn't difficult to do at all. Here's how:
Trigger your hands from any starting position to your back shoulder and back ear. This will allow you to direct the barrel downward to the ball, which also allows you to generate maximum speed like a roller coaster.
Stride forward with your front foot the length of your bat. If your bat is 30-inches long, the length of your feet in the load position should be 30 inches. This will enable you to shift your weight from the stronger backside of your body to a strong foot side of your body. If your feet are too wide, you'll only be able to rotate and not shift weight for power. Make sure your feet are aligned when you stride. If they are closed, it will be difficult to track and take an approach to the pitch.
Stride with your heel down instead of your heel up. You can't fully use your legs to drive the ball until your front heel is down. So why waste time doing it. Striding with my heel up was a rewarding habit when the pitcher I faced wasn't any good.
Do this simple chair drill for 1,000 reps by July 10 to improve your load.
July 20
By now, if you were dedicated enough to do the 1,000 reps to improve your load, you now can focus on improving your timing. The good news about not possessing the skill of good timing is that if you have a nice coach who doesn't care if you improve or not, you'll get enough at bats to get lucky enough to get hits.
Pitchers should be categorized as having an above average fastball, average fastball or below average fastball.
I have a real simple drill for you to do that also can be done anytime and anywhere. Click here to access it on my Dartfish TV Channel (Dartfish.TV/DiamondDirectors),
Do this simple timing drill for 1,000 reps by July 20 to improve the timing of your load.
July 30
Are you still with me? You must be dedicated to being an elite hitter. Is my information about hitting simple to understand? Are the drills simple to do?
Developing good tempo is a skill you won't gain because your coach asked you to do it. Good tempo is based on the speed of your body being too fast, too slow or just right. As a hitter, I'd rush my body because I felt it would help me catch up to the fastball. It only speeds up your removal from baseball as a competitive hitter.
My hitters develop great tempo by using the Hitting Jack-It Weighted Swing System (LINK: HittingJackIt.com). The weight will cause undisciplined hitters to lack body control. Are you a disciplined hitter?
My hitters find their swing effort by using varying weights with the desired outcome being to hit the ball hard toward a target. Let's get started.
You will need:
Here's the drill:
Set up your cones in the middle of the field 100 feet from home plate and 10 feet a part
Use the 9-ounce Hitting Jack-It to take at least 25 swings and attempt to hit at least 50 percent of the balls between the cones.
Use the 12 ounce Hitting Jack-It to take at least 25 swings and attempt to hit at least 50 percent of the balls between the cones.
Use the 16 oz Hitting Jack It to take at least 25 swings attempting to hit at least 50 percent of the balls between the cones.
Use your bat without the Hitting Jack It to take at least 25 swings attempting to hit at least 50 percent of the balls between the cones.
Do this simple tempo drill for 1,000 reps by July 30th to improve the tempo of your swing.
Let me know if you are dedicated on July 30 by sending me a tweet to:
@AtBAts #dedicated
Remember: Good hitters don't work hard; they work smart.
For more information, visit www.diamonddirectors.com today.
BIO
C.J. Stewart has built a reputation as one of the leading professional hitting instructors in the country. He is a former professional baseball player in the Chicago Cubs organization and has also served as an area scout for the Cincinnati Reds. As founder and CEO of Diamond Directors Player Development, CJ has more than 12 years of player development experience and has built an impressive list of clients, including some of the top young prospects in baseball today. If your desire is to change your game for the better, C.J Stewart has a proven system of development and track record of success that can work for you.