This blog could save your baseball career. Do I have your attention? During the months of August, September and October, how coaches and evaluators assess your skills is critical. Each player – and that means you – deserves the right to be assessed at some point of the rigorous year-round demands of baseball.
I'm officially – and boldly – declaring that it happens in the fall months.
There are three things that hitters must assess this fall – assessments that will lead to a productive winter (building habits), productive spring (converting habits to skills) and productive summer (maintaining skills).
No. 1 – Get loaded on time
The load is a very under coached and basic skill of hitting. When done properly, this is what happens:
You trigger back between the back ear and back shoulder
Your front foot strides to the length of the bat
Your feet are aligned
Your front foot is engaged in the ground
A good load enables you to transfer your weight from the backside to the front side. This is basic. You can't transfer what you do not have.
A professional hitter can get to a proper loaded position 90 percent of the time. Can you get to a proper load position 90 percent of the time? Use the fall months as an opportunity to create this habit.
Timing is a skill my friend and it takes 3,000 reps to make it a habit, and another 3,000 reps in the winter to convert it from a habit to a skill. Check out this illustration to determine when you should get loaded.
Click here to perform this high level timing drill.
No. 2 – Separate the load from the approach
It takes a pitch .4 seconds to .5 seconds to leave the pitcher's hand and cross home plate. That means if you have good hitting mechanics, you should get loaded on time with a .3-second to .4-second pause between the load and approach phase of your swing. Major League hitters will separate the load from the approach successfully 80 percent of the time. Can you do that? Use the fall to develop the habit.
Hitters often start their approach immediately after their front foot touches the ground. The problem is that if you don't separate your load from your approach, you lose the ability to track the pitch. Tracking a pitch is a necessary skill for elite hitters. Seeing the pitch is great for fans that cheer in the stands.
Click here for a great separation drill on my Diamond Directors Dartfish TV channel.
No. 3 – Hit the ball where it is pitched
Coaches say, "Hit the ball where it is pitched," as much as they say, "Let the ball get deep." Both sayings lack real value because meaningful drills often don't support them.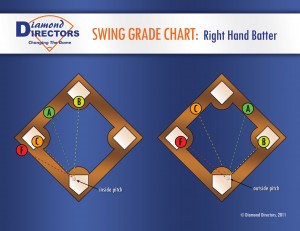 Hitting the ball where it is pitched is a result of being loaded on time and separating the load from the approach. Should I repeat that?
Outside pitches driven to the opposite field alert scouts that this is a kid with sound fundamentals. If you continue to do it, you'll have a skill that can earn you a college scholarship and/or professional opportunities.
Major League hitters can repeat their swing 70 percent of the time hitting the ball where it is pitched. Can you do that? Use the fall to monitor your success.
Check out this illustration to measure your success as well as adjustments to be made when you fail at hitting the ball where it is pitched. I use my Tanner Tees and Hitting Deck to develop my hitters' skills of hitting the ball where it is pitched.
Forget about hits this fall and assess your hitting skills. You deserve it.
Remember: Good hitters don't work hard; they work smart.
For more information, visit www.diamonddirectors.com today.
BIO
C.J. Stewart has built a reputation as one of the leading professional hitting instructors in the country. He is a former professional baseball player in the Chicago Cubs organization and has also served as an area scout for the Cincinnati Reds. As founder and CEO of Diamond Directors Player Development, CJ has more than 12 years of player development experience and has built an impressive list of clients, including some of the top young prospects in baseball today. If your desire is to change your game for the better, C.J Stewart has a proven system of development and track record of success that can work for you.