Let's make hitting simple for a change instead of complicating it for nothing. When I started 15 years ago giving hitting lessons, I had a slight idea of what I was doing. It wasn't enough to collect money from people though.
It felt like the more you complicated the hitting process, the more the kids were forced to come back. I finally got tired of under-serving people and committed valuable time to studying swings and teaching methods.
Fifteen years later, I'm among the top 1 percent of baseball swing development coaches in America. Holding this position allows me to effective serve thousands of players and coaches. That makes it even more important to keep it simple. Here are three simple things you must remember about hitting.
Live by core values
Peace of mind is a great feeling. It allows you to do great things. If you want to be a good hitter, and an even better person, you must live by six core values, including excellence, humility, integrity, loyalty, stewardship and teamwork. Of the six, I really lock in on excellence. To be excellent is to simply fulfill expectations. If you're expected to practice at home, work on getting into a good load position, on time, 3,000 times to develop a habit, do it and experience excellence during your games.
Get ready on time
I hear the screams of "get ready to hit" all the time at youth fields, all the way up to the majors. Get ready when? Get ready how? Get ready to do what?
Pitchers are categorized as having an above average fastball, average fastball and below average fastball. That's three different times to get ready. See the Timing illustration.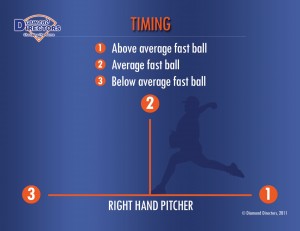 You will be ready when your feet are even, at bat's length with your front heel down, and your hands are between your back shoulder and back ear.
All the effort to get loaded on time is to allow you to begin tracking the pitch. You can have a perfect swing, but it is useless if you have not developed the skill of tracking pitches – determining if it is high or low, inside or outside, curving or straight, ball or strike, fast or slow.
When all else fails, make an adjustment
Making adjustments simply is doing something different. In order to do something different, you must know right from wrong in regards to your swing. Check out this Swing Chart Guide to understand the measured adjustments that should be made.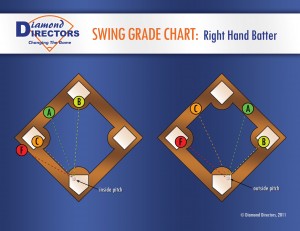 When you are governed by core values, you will spend the focused amount of time developing physical skills like timing. When your timing is off, core values allow you to make adjustments.
Remember: Good hitters don't work hard; they work smart.
For more information, visit www.diamonddirectors.com today.
BIO
C.J. Stewart has built a reputation as one of the leading professional hitting instructors in the country. He is a former professional baseball player in the Chicago Cubs organization and has also served as an area scout for the Cincinnati Reds. As founder and CEO of Diamond Directors Player Development, CJ has more than 12 years of player development experience and has built an impressive list of clients, including some of the top young prospects in baseball today. If your desire is to change your game for the better, C.J Stewart has a proven system of development and track record of success that can work for you.