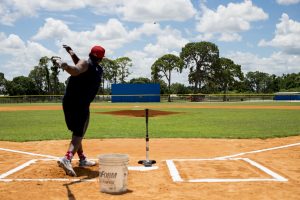 Christmas is just around the corner. So, to help out all those committed baseball players, I am sharing three gifts that must be on Santa's list. These tools will help set you in the right direction for all of those goals you are setting for the upcoming season.
Tanner Tee Hitting Deck
The Hitting Deck is a contact zone training tool that teaches you how to conduct comprehensive tee work. It helps provide emphasis on the contact zone and grooving your swing toward making contact in the correct place to drive the ball where it should be driven.
The Hitting Deck functions in tee work by placing the tee on a suggested point of contact. Next, line up in your stance with the Stride Guide and hit the ball where it should be hit.
Every repetition is consistent in footwork and tee placement, so you can focus and develop faster in your swing, thus producing lasting results because of better training. This is a training aid that compliments tee work at home, with a private coach or during travel team practice. Coaches teach these concepts already, but with Hitting Deck, there is a visual aid to connect directly with the hitters. Get your Hitting Deck at TannerTees.com.
Here's one way that I use my Tanner Tee Hitting Deck.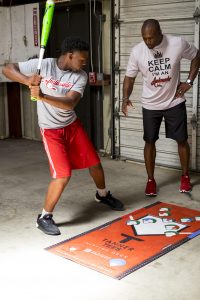 Tanner Heavy
Tanner Heavy is for baseball and softball hitters that take tee work seriously. This base provides the ultimate in balance and stability, while providing less creep. It is commercial grade and professional quality with a sleek, modern look. There are no mechanical or moving parts to break or pieces to lose.
If you have a current Tanner Tee, you easily can unscrew your existing stem from its base and thread into the Heavy base. The Heavy base measures approximately 15 inches x 10 inches . Get your Tanner Heavy at TannerTees.com.
Here's one way that I use my Tanner Tee
Dartfish Express
Dartfish Express is the ideal video coaching tool for any sport. You get instant feedback during practice, slow motion analyzation, side-by-side comparisons, an opportunity to add your expert view, share,  and much more.
Get the app here Dartfish Express – Sport video analysis by Dartfish
During the Build Phase for my Diamond Directors clients, Dartfish Express helps me show my hitters what they are doing – both right and wrong. We want to build habits and strength from what they are doing right. We don't have time for luck.
It takes 3,000 reps to build a habit and there are seven parts of the swing (stance/load, timing, tempo, tracking, approach, contact, extension/finish). That's 21,000 reps! This app is great for the three major learning styles – visual, auditory and kinesthetic.
Look at how I use Dartfish with my clients at the 2:25 mark
Remember: Intelligence trumps being smart.
For more information, visit www.diamonddirectors.com today. Also, check out our Digital Magazine.
BIO
C.J. Stewart has built a reputation as one of the leading professional hitting instructors in the country. He is a former professional baseball player in the Chicago Cubs organization and has also served as an area scout for the Cincinnati Reds. As founder and CEO of Diamond Directors Player Development, CJ has more than 12 years of player development experience and has built an impressive list of clients, including some of the top young prospects in baseball today. If your desire is to change your game for the better, C.J. Stewart has a proven system of development and track record of success that can work for you.