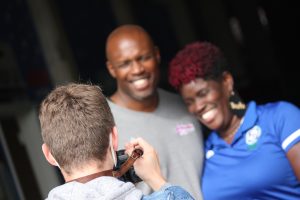 Unapologetically, I am a follower of Christ. Because I am a follower, He has blessed me with spiritual gifts that include discernment, prophesy, leadership and hospitality.
Through coaching, I have found my calling.
Reflecting on God's call, John Ortberg wrote, "A calling is very different from a request for fulfillment. A calling, though we glamorize it, is not glamorous. It is a response to a summons. It is a kind of surrender. It is a willingness to die to the past and move to the future."
God can trust me to use my success to serve others. That's what significance is all about. That's why I have achieved so much success.
What success are you seeking through baseball?
What are you doing that you shouldn't be doing that may cause you not to achieve that success?
What are you struggling with right now?
How will you use your success to serve others?
Because of my success via Diamond Directors, my wife, Kelli, and I are able to use baseball as a vehicle to help 350 Black boys grades 6-12 from Atlanta Public Schools overcome the three curve balls that threaten their success: crime, poverty and racism. CLICK HERE to see our Impact Stats.
As you prepare to compete in April, remember there are four steps I believe you need to focus on for the month March.
Don't be stupid.
Remain strong during your struggles.
Embrace your success.
Use your success to serve others.
To help keep your skills sharp, we have introduced a new type of Skill Build—our VIRTUAL SKILL BUILD—where I can help you develop hitting skills anytime, anywhere using anything.
Remember: Intelligence tops being smart.
For more information, visit www.diamonddirectors.com today. Also, check out our DIGITAL MAGAZINE.
C.J. Stewart has built a reputation as one of the leading professional hitting instructors in the country. He is a former professional baseball player in the Chicago Cubs organization and has also served as an associate scout for the Cincinnati Reds. As founder and CEO of Diamond Directors Player Development, C.J. has more than 22 years of player development experience and has built an impressive list of clients, including some of the top young prospects in baseball today. If your desire is to change your game for the better, C.J. Stewart has a proven system of development and a track record of success that can work for you.