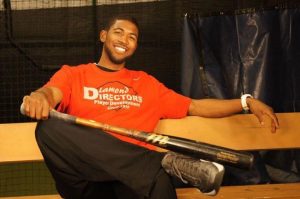 Talent is what you do well. Habits are what you do well repeatedly without thought. Skills are what you do well repeatedly without thought while under stress.
Talented hitters go with the flow until things get stressful. Good hitters have good habits. Elite hitters have skills. The scouting report for talented hitters talks about their tools such as bat speed and raw power. Scouts use words like consistency and repeatability when discussing hitters with good habits.
Hitters with skills get talked about in a specific way. Scouts talk about skilled hitters ability to track pitches as opposed to talented hitters ability to "see the ball well." Skilled hitters leverage their body to produce power as opposed to talented hitters reliance of using effort to hit the ball hard.
Have you ever been evaluated by a scout?
If your hitting ability hasn't been professionally assessed, what is your plan for success?
What are your top reasons why you do not need to be assessed?
Diamond Directors has been providing the blueprint of success for diamond sports athletes since 1998. Let us assess your swing in our next Hitting Combine.
Remember: Intelligence tops being smart.
For more information, visit www.diamonddirectors.com today. Also, check out our Digital Magazine.
---
C.J. Stewart has built a reputation as one of the leading professional hitting instructors in the country. He is a former professional baseball player in the Chicago Cubs organization and has also served as an area scout for the Cincinnati Reds. As founder and CEO of Diamond Directors Player Development, C.J. has more than 12 years of player development experience and has built an impressive list of clients, including some of the top young prospects in baseball today. If your desire is to change your game for the better, C.J. Stewart has a proven system of development and track record of success that can work for you.