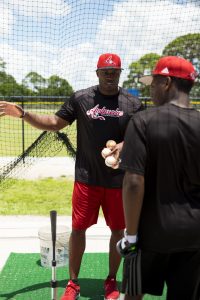 Trying something new often is uncomfortable. How do you handle discomfort?
I'm reminded of how much I disliked reading books. It was boring, time consuming and didn't produce a reward. I've since developed a habit of reading over the past five years, because now I know my calling in life – my spiritual gift and earthly talent. Today, reading is paying dividends for my clients, my family and me.
You don't want to try a new batting coach this fall, even though you know that you should. It's time to stretch yourself intellectually, because becoming a great hitter is more than overly used statements such as, "Let the ball get deep," and pep talks.
This fall is a great time to join a new travel team, but you're afraid of the awkward conversation with your current coach. Or maybe you want to try a new batting stance or approach to hitting, but you're not sure that the fall is the right time.
In my Hitting Lab, August through October is all about trying new things to determine what really works. The other months play out like this:
November–January building habits and strength
February–April converting habits to skills
May–July maintaining skills
It's unfair to spend the entire 12-months of your baseball development not having the mental space to try new things. I get it though. You are afraid of these three things:
Your fall ball coach may bench you for not hitting good if you try something new.
You may not make the team if you try something new.
Your parents may be disappointed if you don't lead the team in batting average.
Here are four questions for you:
Why are you happy with your current batting coach?
Why are you happy with your current team?
Why are you happy with your current stance and approach?
Why am I asking you these questions?
Remember: Intelligence trumps being smart.
For more information, visit www.diamonddirectors.com today. Also, check out our Digital Magazine.
BIO
C.J. Stewart has built a reputation as one of the leading professional hitting instructors in the country. He is a former professional baseball player in the Chicago Cubs organization and has also served as an area scout for the Cincinnati Reds. As founder and CEO of Diamond Directors Player Development, CJ has more than 12 years of player development experience and has built an impressive list of clients, including some of the top young prospects in baseball today. If your desire is to change your game for the better, C.J. Stewart has a proven system of development and track record of success that can work for you.