The great hitters are revealed when the sun is the hottest. It is summer – the time to apply the goals you set in the fall (and were developed in the winter and spring). Here are three major benefits every player should strive for with summer baseball: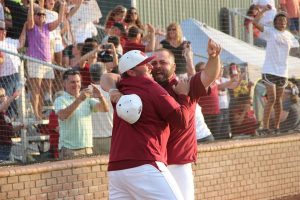 1. Assessed against the best
Some say that baseball builds character. I feel that statement is only 50 percent true. In my opinion, the other half is based on baseball revealing character. The truly committed players are going to continue to grind it out in the summer sun and during rain delays. The fastballs from pitchers get heavier as their arms get stronger. It takes more than "letting the ball get deep" to hit that nasty change up. Summer brings out the best and, if you are struggling to compete, you must assess that development plan you established in the fall and make the necessary adjustments. If you don't, it's going to be a long summer.
2. Adjust your development plan
Playing against the top teams in America can bring a lot of personal failure with it. But if you manage it properly, it will allow you to mature. If managed poorly, it will destroy you both mentally and physically. If you struggle this summer, recognize what you are doing wrong so that you can make the proper adjustments. For me, making an adjustment means doing something different – something that can lead to a positive outcome. Aside from getting more swings in the cage to get more hits, consider making adjustments to your diet, sleep duration and relationships. The summer can bring out the best and worst in all of us. When it brings out the worst, you have to adjust quickly.
3. Ask yourself why you play the game
It goes without saying that summer baseball can be very demanding. To achieve at an elite level, you need determination. Determination is the fuel for competition. You can hit balls off the SwingAway.com all day long, but without determination, it is just exercise. Ever asked yourself why you bother to play this challenging game? What's your answer? It better be a good one. And it better be followed by the right action plan or you will become a hitting coach at a young age.
Remember: Good hitters don't work hard; they work smart.
For more information, visit www.diamonddirectors.com today.
BIO
C.J. Stewart has built a reputation as one of the leading professional hitting instructors in the country. He is a former professional baseball player in the Chicago Cubs organization and has also served as an area scout for the Cincinnati Reds. As founder and CEO of Diamond Directors Player Development, CJ has more than 12 years of player development experience and has built an impressive list of clients, including some of the top young prospects in baseball today. If your desire is to change your game for the better, C.J Stewart has a proven system of development and track record of success that can work for you.