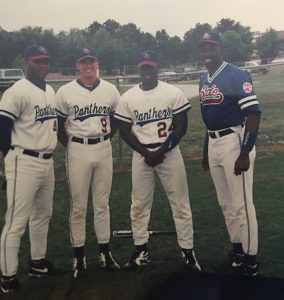 I Googled the meaning of a fool and saw a definition of a person being silly or stupid. April Fools Day occurs every year on April 1. This past April Fools Day made me think about some of the stupid things I've done in the past, as well as some of the stupid things I currently do.
I define stupidity as knowing the right thing to do and not doing it. To be stupid is to be a fool.
On the other hand, being intelligent is knowing the right thing to do and doing it.
In between lies ignorance and smarts, with the former meaning you don't know, and thus, cannot do. The later meaning is that you do know but cannot do.
I was drafted twice by the Chicago Cubs. Instead of signing after being drafted out of high school, I went to Georgia State University, where I excelled on the field, but was academically ineligible. I transferred to DeKalb Junior College and did the same thing. After being drafted for the second time out of DeKalb Junior College by the Cubs, I signed and played two years in the Cubs' organization.
"Play stupid games, win stupid prizes."
My stupid actions led to me not becoming the best baseball player I could be. I didn't study. I didn't take care of my body. The list is of "I didn't's" is long.
I am 46 years old and a lifelong learner who laughs at the stupid things I used to do.
However, I am still working to become an empathetic listener. I have a habit of acting stupidly when I cut people off from talking to me from time to time.
My wife, Kelli, and I were recent recipients of the "Atlanta Technical College Bridge Builders Award," an annual event that recognizes outstanding contributions of community and business leaders whose work bridges the gap between citizens and resources to enhance the quality of life in metro Atlanta.
I have a life mission to be significant by serving millions and bringing them into a relationship with Christ, starting with my wife, Kelli, and our daughters, Mackenzi and Mackenna.
Fulfilling that mission makes me intelligent.
Speaking of intelligence, wouldn't it be an intelligent move to have an all exclusive African-American baseball team compete in the next World Baseball Classic paying homage to the fact that the Negro Leagues introduced baseball to Japan, Canada and Latin America. This in spite of the 2023-24 MLB Season Opener having less than 4% of its players being African-American.
To help keep your skills sharp, we have introduced a new type of Skill Build—our Virtual Skill Build—where I can help you develop hitting skills anytime, anywhere using anything.
Remember: Intelligence tops being smart.
For more information, visit www.diamonddirectors.com today. Also, check out our Digital Magazine.
C.J. Stewart has built a reputation as one of the leading professional hitting instructors in the country. He is a former professional baseball player in the Chicago Cubs organization and has also served as an associate scout for the Cincinnati Reds. As founder and CEO of Diamond Directors Player Development, C.J. has more than 22 years of player development experience and has built an impressive list of clients, including some of the top young prospects in baseball today. If your desire is to change your game for the better, C.J. Stewart has a proven system of development and a track record of success that can work for you.