I love summer baseball because you get the opportunity to play the best from all over the country. The summer also is a time when many aspiring baseball players quit and move on to other sports. I don't know about where you live, but in Georgia, it's competitive.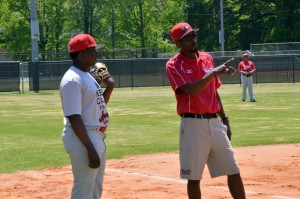 If you want to use summer baseball to your advantage, here are three questions you must ask yourself and answer positively at the end of the summer:
Question No. 1 – Am I as good as I thought?
When I was a youth baseball player, I often ran from competition because I didn't want to see that I wasn't as good as I thought I was. I didn't have expert coaching, so if I found out I wasn't good enough while not having good coaching, I might have to quit baseball altogether.
I was fortunate to fulfill my childhood dream of playing professionally in the Chicago Cubs organization.
I landed a college scholarship and on the fast track for professional baseball when I did three things as a youth.
1. Be humble by thinking of others more and yourself less
2. Compete against the best, because there is no development without a test
3. Be mentored by a good coach with results
This is your life at stake – it's beyond baseball.
Good hitters hit good pitching really well. When they do, three things happen:
Hit the ball where it is pitched 70 percent of the time.
Hit the ball hard 50 percent of the time
Get hits over 40 percent of the time
Tip of the Week – 10-2-10 Drill 
Question No. 2 – How good do I need to get?
As a young player, I played against J.D. Drew, George Lombard and Kyle Farnsworth. I found out real quick that I wasn't as talented as they were. But it was a blessing though to find out how good that I needed to be.
You only find out how good you need to be when you play against really talented players.
The problem with most young players is that winning a tournament becomes more important to their coach than development, so they avoid the top competition. Do you feel stuck? Good luck, and tell your real story when you become a coach.
Question No. 3 – What separates great from the good?
I was good as a youth and amateur baseball player in Georgia, but J.D., George and Kyle had more desire than me. That's why they had longer professional baseball careers than me.
Billionaire Warren Buffet said that in order to be successful in anything in life you need desire, knowledge and good habits.
You also need all three to be a baseball fan.
Remember: Good hitters don't work hard; they work smart.
For more information, visit www.diamonddirectors.com today. Also, please check out our eMagazine.
BIO
C.J. Stewart has built a reputation as one of the leading professional hitting instructors in the country. He is a former professional baseball player in the Chicago Cubs organization and has also served as an area scout for the Cincinnati Reds. As founder and CEO of Diamond Directors Player Development, CJ has more than 12 years of player development experience and has built an impressive list of clients, including some of the top young prospects in baseball today. If your desire is to change your game for the better, C.J Stewart has a proven system of development and track record of success that can work for you.