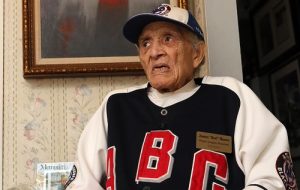 "We'd take the baseballs that the old players had. And after it unraveled, we'd get some tape and wrap it up and make it back more like a baseball again… I was fortunate enough to learn how to play and I just fell in love with the game."
This was a story James "Red" Moore of the Atlanta Black Crackers told in an interview he did with FOX 5 Sports in 2000. I had the pleasure of meeting him before he died in 2016.
Mr. Moore graduated from Atlanta's Historic Booker T. Washington High School and later played in the Negro Leagues for his hometown Atlanta Black Crackers. I love the quote above by Mr. Moore because it reminds me to be gritty.
Grit is the relentless pursuit of purpose and it is built through adversity.
How much grit is in your tank?
How do you respond to adversity on the baseball field?
How about off the field?
How do your coaches help through adversity?
How do they help you prevent it?
To help keep your skills sharp, we have introduced a new type of Skill Build—our Virtual Skill Build—where I can help you develop hitting skills anytime, anywhere using anything.
Remember: Intelligence tops being smart.
For more information, visit www.diamonddirectors.com today. Also, check out our Digital Magazine.
C.J. Stewart has built a reputation as one of the leading professional hitting instructors in the country. He is a former professional baseball player in the Chicago Cubs organization and has also served as an associate scout for the Cincinnati Reds. As founder and CEO of Diamond Directors Player Development, C.J. has more than 22 years of player development experience and has built an impressive list of clients, including some of the top young prospects in baseball today. If your desire is to change your game for the better, C.J. Stewart has a proven system of development and a track record of success that can work for you.