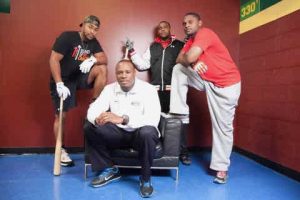 April brings a lot of rain and it cancels games and forces us to play the waiting game. What if the rain drops could give you what you need to excel on the field and win at the game of life?
There are four Ps that I believe you need, and April would be a great time to ask God to bring rain to give them to you:
"God, please rain down passion, purpose, patience and performance on young men who aspire to become elite on and off the baseball field."
Did you know that the Latin word for passion is suffering? Yes, that's what it is. So that means that what you are suffering from is what you are passionate about. Some people like to look at passion from a more positive lens and replace suffering with seeking. But suffering helps you to understand what you are seeking.
I've been coaching professionally for more than 20 years. What keeps me going is how I suffered as a child from not having coaches who were intentionally, methodically and strategically helping me become the best player and person I could be amid all my off-the-field issues. I also dealt with roadblocks that included procrastination, lack of discipline, and lack of parental emotional and financial support for my dream of playing professional baseball.
My player development company, Diamond Directors, provides the blueprint of success for diamond sport athletes. Passion is like fuel added to fire. It makes the fire stronger and ensures that it burns longer.
What is your definition of passion?
What are you suffering from?
What keeps your coach going when the going gets tough?
What should your parents do more or less to better support you as a student-athlete?
To help keep your skills sharp, we have introduced a new type of Skill Build — our Virtual Skill Build — where I can help you develop hitting skills anytime, anywhere using anything.
Remember: Intelligence tops being smart.
For more information, visit www.diamonddirectors.com today. Also, check out our Digital Magazine.
C.J. Stewart has built a reputation as one of the leading professional hitting instructors in the country. He is a former professional baseball player in the Chicago Cubs organization and has also served as an associate scout for the Cincinnati Reds. As founder and CEO of Diamond Directors Player Development, C.J. has more than 22 years of player development experience and has built an impressive list of clients, including some of the top young prospects in baseball today. If your desire is to change your game for the better, C.J. Stewart has a proven system of development and a track record of success that can work for you.