The old bible adage Matthew 6:21 talks about showing God our love with time, talent and treasure, in that order. Even now, I use that framework as I maintain my status as a husband, father and elite hitting instructor.
I'm going to make a confession here. In my teenager years, when it pertained to becoming a Major Leaguer, I had it backwards. I wanted to reap the rewards of being a Major League player, but I lacked the talent and I wouldn't invest the time. And while this is my story, I am not alone.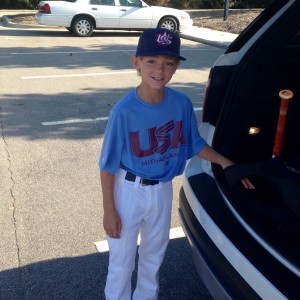 Time
If I heard it once, I heard it a thousand times from coaches on all levels – success takes time. Sure, it's a simple statement. But I always find myself asking, "How much time does it actually take?"
What I know now as an accomplished swing coach is that it takes 3,000 reps to develop a habit and knowledge, combined with the desire and habits. That's what breeds success.
There are seven parts of the swing, which means it takes 3,000 reps from each part to form a habit. The seven parts of the swing include:
Stance/Load
Timing
Tempo
Tracking
Approach
Contact
Extension/Finish
Now that you have established your habit, it takes another 3,000 reps per swing part to convert it into a skill. We aren't done yet. In order to maintain that skill, it takes another 3,000 reps per part:
3,000 reps x 7 parts = 21,000 to build a habit
3,000 reps x 7 parts = 21,000 to convert the habit to a skill
3,000 reps x 7 parts = 21,000 to maintain the skill
Do the math: That's 63,000 reps. Now you understand why it takes knowledge, desire and habits to be successful. There are 8,760 hours in a year. How will you use your time?
This information will either make you quit playing baseball or get going.
Tip of the Week: Ball Toss Drill 
Talent
When you spend the appropriate time developing a skill, the results is talent. Michael Jordan wasn't born to play basketball, he worked hard to hone his game. He gained knowledge of the game. His desire allowed him to make sacrifices to learn more and do more. Shooting properly and scoring became a habit because of his knowledge and desire to practice and learn from his successes and failures.
I often will hear my students say, "I've worked hard." But do they really understand the process it takes to be successful? As a professional swing coach, I can't afford to not be intentional about what it takes to be ready for success. My reputation and brand is based on delivering these results.
Talent is achieved when you know what you are doing, how to do it, how often to do it, when to do it and why you are doing it.
Treasure
Time and talent is in – treasure out. Is there anything worth having that doesn't require an invest of time and energy? Major League Baseball is an exclusive fraternity of men who play the game at the highest level. I wasn't fortunate to play there because of a lack of character (discipline, focus, commitment and desire).
I played in the Minor Leagues, an experience that taught me a lot. That is why my teaching methods are so effective today. I know why I didn't reach my destiny, which helped me create a methodology that could help Jason Heyward, Andrew McCutchen, Dexter Fowler, and scores of others make it.
Major League Baseball is in need of more fans (stadiums have at least 30,000 seats) than players. Each year, only 750 players (30 MLB teams and 25-man rosters) receive financial compensation to play the game. You can either purchase a ticket or you can be the ticket. The difference is time and talent, based on knowledge, desire and habits.
How much time do you spend per year developing all seven fundamental parts of your swing? It's a question you need to answer before you reach that next level.
Remember: Intelligence trumps being smart. 
For more information, visit www.diamonddirectors.com today. Check out our second digital magazine.
BIO
C.J. Stewart has built a reputation as one of the leading professional hitting instructors in the country. He is a former professional baseball player in the Chicago Cubs organization and has also served as an area scout for the Cincinnati Reds. As founder and CEO of Diamond Directors Player Development, CJ has more than 12 years of player development experience and has built an impressive list of clients, including some of the top young prospects in baseball today. If your desire is to change your game for the better, C.J Stewart has a proven system of development and track record of success that can work for you.