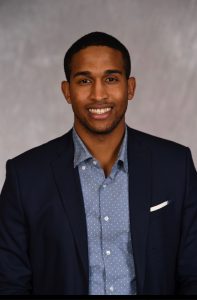 "Black Panther" has become my favorite movie. What is yours? A great movie moves people, inspires them. I aspire to be recognized as one of the greatest coaches to ever live with God receiving the glory. We all have a calling to fulfill. My life purpose is to coach people and help them become the best version of themselves.
To show you some of the work I do, I recently sat down with one of mentees, Bryce Only:
How old are you?
25
What did you dream about doing at age 13?
Playing professional basketball or baseball.
What advice would you give your 13 year old self?
Anything you set your mind to you can accomplish. If you think you can do it, you will. If you think you cannot, you will not.
Who is your current employer? What is your job title and job description?
Los Angeles Dodgers, Inside Sales Rep — Ticket Sales and Service
What role did playing baseball as a child through college have on your personal and professional development?
Baseball is life. A lot of the things I learned through the game of baseball. I still apply them as a professional today. They include accountability, work ethic, and giving/taking constructive criticism. I do these every day. The game of baseball taught me that just because everything is not all peachy, does not mean you stop working. You work to have a chance at success.
As of today, what is your dream job?
My dream job is at the intersection between revenue generation, innovation and leadership. Not sure if I have a title in mind, but I know I want to bring in a lot of money, I want to work on ideas that change the world and empower the next generation of leaders
Talk about the two 40-Day Challenges that C.J. Stewart prescribed for you.
The challenge consisted of writing out what I dream about, what I worry about, what I cry about and identifying what brings me joy. It has helped me identify clearly what I dream about, worry about, cry about and what brings me joy. The challenge helped me in my conversations when building genuine connections with like- minded people.
How are those 40-Day Challenges preparing you for your dream job?
When interviewing and having conversations with like-minded people, I have noticed that people want to hear about what I dream about, worry about, cry about and what brings me joy. It has helped me see past all the sales gimmicks and get to the root of what drives people. At the end of the day, that is what we are.
To help keep your skills sharp, we have introduced a new type of Skill Build—our Virtual Skill Build, where I can help you develop hitting skills anytime, anywhere using anything. Check it out.
Remember: Intelligence tops being smart.
For more information, visit www.diamonddirectors.com today. Also, check out our Digital Magazine.
---
C.J. Stewart has built a reputation as one of the leading professional hitting instructors in the country. He is a former professional baseball player in the Chicago Cubs organization and has also served as an associate scout for the Cincinnati Reds. As founder and CEO of Diamond Directors Player Development, C.J. has more than 22 years of player development experience and has built an impressive list of clients, including some of the top young prospects in baseball today. If your desire is to change your game for the better, C.J. Stewart has a proven system of development and a track record of success that can work for you.