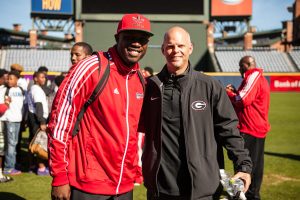 There are millions of boys all over the world who dream of playing collegiate and professional baseball. I'm confident that less than 25 percent have the courage to say it for these three commonly used statements from their parents and facilitators:
"The chances are slim to make it."
"There are millions of boys out there that want to make it."
"You have to work really hard."
Professional coaches have the ability to assess, and then tell them they either have or don't have what it takes. If it works out, they will offer to help.
Is baseball tournament play important? Why so? 
Where your team ranks in tournament rankings does offer a sense of accomplishment. However, college programs don't offer scholarships to teams.
Consider a team with 12 players in the dugout during a baseball 12U baseball tournament. At the same time, they are all day dreaming about playing baseball in college. Four of them want to play for the University of Georgia. Four want to play for Auburn University and the other four want to take their talents to Georgia State University.
What percentage of these boys would you guess realize they can learn the fundamentals and culture from the coaches of their dream school for less than the cost of the tournament they're playing in?
College baseball camps provide direct access to baseball instruction from the head baseball coach and his staff, as well as the culture of the program. The initial contact here makes it easier for a college coaches to further evaluate you in showcase tournaments.
What are three things that all players are guaranteed to takeaway when they leave your camp?
The will have a better knowledge of the game of baseball. Our entire staff takes pride in teaching the game and how it should be played. Kids that attend our camps will get repetitions hitting, throwing and fielding, but will also gain a deeper understanding of how to play the game.
They will understand what it takes to become a player at the college level. We also have our players present at these camps and our players can share with them what it truly takes to become a college athlete.
A whole lot of fun. The game of baseball is fun and should be played that way. We take what we do very seriously, but we also have a whole lot of fun teaching the game we love.
Scott Stricklin, head baseball coach, University of Georgia
What are three things that all players are guaranteed to takeaway when they leave your camp?
Baseball camps are focused on creating a sincere connection to campers with their staff due to the common ground of loving baseball. In addition, they offer a sincere element of development through teaching points and drill work. They also provide a sincere evaluation or game plan for moving forward well after camp and being available for follow up advice or assistance.
– Butch Thompson, head baseball coach, Auburn University
What are three things that all players are guaranteed to takeaway when they leave your camp?
I want the campers to have a good time, make new friends and learn new things. I want the campers to know that we at Georgia State baseball have a family environment and it is an environment for everyone to thrive. I want the campers to understand that playing baseball is only one aspect of our program. We will expect high academic achievement, positive behavior and model citizens on and off the field. I want to identify their strengths and help them understand that their special tool is what will get them an opportunity in high level baseball. Also, I help them understand things they will need to work on to make a team and then contribute. Lastly, I want them to leave the park as a Georgia State fan and come back to see us play.
– Greg Frady, head baseball coach, Georgia State University
Remember: Intelligence trumps being smart.
For more information, visit www.diamonddirectors.com today. Also, check out our Digital Magazine.
BIO
C.J. Stewart has built a reputation as one of the leading professional hitting instructors in the country. He is a former professional baseball player in the Chicago Cubs organization and has also served as an area scout for the Cincinnati Reds. As founder and CEO of Diamond Directors Player Development, CJ has more than 12 years of player development experience and has built an impressive list of clients, including some of the top young prospects in baseball today. If your desire is to change your game for the better, C.J. Stewart has a proven system of development and track record of success that can work for you.