It's January and those New Year's resolutions already are fading away like a nasty John Smoltz slider. What do you believe the difference between baseball development and baseball training is?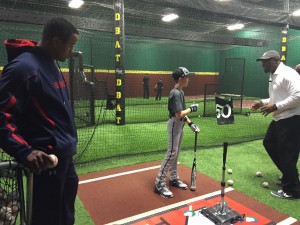 Development is desired by millions of baseball players who desire to reach The Show. So, why does less than 1 percent of the world ever reach the Major Leagues? It's because you must be properly developed.
Lasting development for anything requires a methodology be in place that tells you what to do and when to do it. There also must be processes in place to execute the methodology. When you have a methodology and processes in place, you can focus on training – drills. I would dare say that 99 percent of all hitters spend 99 percent of their time training without a methodology.
Throughout the year, I will shed light on my processes. Click here to see my development methodology.
November through January are the months to focus on building habits and strength. How do we build good habits and strength – by training properly. To avoid confusion and debates, let's agree that great hitters must train their mind, eyes and body. Here's what I recommend for each.
Mind
Great habits combined with a great attitude is what Dr. Tim Elmore refers to as Habitudes. Click here to learn more Growing Leaders.
A bad attitude ruins the best athletes that rely solely on their physical abilities. My training recommendation to improve your mind to become an elite hitter is simple – visit GrowingLeaders.com to read blogs from Dr. Tim Elmore and purchase his Habitudes curriculum.
Eyes
Seeing the ball and tracking the ball aren't the same thing. Tracking is a skill that allows hitters to determine where pitches such as fastballs, breaking balls and change ups will land. The worlds best swing approach can't drive breaking balls if they aren't properly tracked.
Try this drill to improve your tracking skills. Remember: It takes 3,000 reps to build a habit.
Body
With an elite process of thinking, the skill of tracking pitches and a body that works, you can do anything as a hitter now. Here is the simple breakdown of hitting fundamentals.
1. Stance/Load
2. Timing
3. Tempo
4. Tracking
5. Approach
6. Contact
7. Extension/Finish
Each of these seven parts of your swing requires 3,000 reps to develop if you want to perform at an elite level. Don't panic, because it's impossible to become elite with training over night. It's a process that begins with education. Train to be the best within a methodology and process.
Remember: Good hitters don't work hard; they work smart.
For more information, visit www.diamonddirectors.com today.
BIO
C.J. Stewart has built a reputation as one of the leading professional hitting instructors in the country. He is a former professional baseball player in the Chicago Cubs organization and has also served as an area scout for the Cincinnati Reds. As founder and CEO of Diamond Directors Player Development, CJ has more than 12 years of player development experience and has built an impressive list of clients, including some of the top young prospects in baseball today. If your desire is to change your game for the better, C.J Stewart has a proven system of development and track record of success that can work for you.