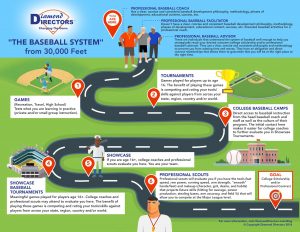 Hope without action is a dream. Add action to your hope and you have faith.
How does this quote make you feel? "We have met the enemy and it is ourselves."
By the millions, baseball players of all ages are hopeful they'll sign a college baseball scholarship and/or get drafted by their favorite Major League Baseball team. Many young players will hit the batting cages for hours, several days a week.
But they must remember – there are seven parts to the swing. It takes 3,000 reps to build a habit. That's 21,000 reps to build a habit and another 21,000 to convert the habit to a skill. And you must add another 21,000, to maintain the habit. Here's the formula:
Stance/Load x 3,000
Timing x 3,000
Tempo x 3,000
Tracking x 3,000
Approach x 3,000
Contact x 3,000
Extension/Finish x 3,000
The summer is the Maintenance Phase (May-July) for my hitters. It requires 21,000 reps.
If you want to gauge the ROI of your investment, there are ways to do it. For example, if you want to see who's winning, you look at the scoreboard.
Do you have a scoreboard to track the reps you're taking this summer?
From my experience as an amateur and professional baseball player, and as a professional coach scout, I've discovered that a lack of skills under stress forces players to complain, blame and/or feel shame.
Developing a skill requires action, because hoping for it isn't enough.
Here's my challenge to you: be honest with yourself about the hitting skills you have. If you need my help beyond this blog, schedule a 90-minute Onsite Hitting Lab Assessment so that we can ensure you're progressing on the right track.
Remember: Intelligence trumps being smart.
For more information, visit www.diamonddirectors.com today. Also, check out our Digital Magazine.
___________________________________________________________________________
C.J. Stewart has built a reputation as one of the leading professional hitting instructors in the country. He is a former professional baseball player in the Chicago Cubs organization and has also served as an area scout for the Cincinnati Reds. As founder and CEO of Diamond Directors Player Development, CJ has more than 12 years of player development experience and has built an impressive list of clients, including some of the top young prospects in baseball today. If your desire is to change your game for the better, C.J. Stewart has a proven system of development and track record of success that can work for you.