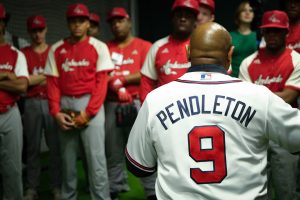 When a ship coasts in the ocean, the engine stops. That seems like a logical thing to do when you are trying to save fuel. My hitters are in the Maintenance Phase of their season, and they are putting a period on another year. Here's a look at their playbook:
August through October — Assessment Phase
Try new things
Determining what doesn't work
Determining what does work
November through January — Build Phase
Building strength based on what works
Building habits based on what works
February through April — Conversion Phase
Converting habits to skills
May through July — Maintenance Phase
Putting a (.) on another productive year
To maintain is to keep working. To coast is to stop. My hitters have worked diligently to get the most out of their ability. They are focused on performing and not playing. The Assessment and Conversion Phases are a good time to ensure that you are playing the game "the right way" —unafraid and maximum effort. Summertime is Showtime, while Performance prepares you for your next practice.
Have a great summer and don't miss the opportunity to start your development with me during the Assessment Phase.
Remember: Intelligence tops being smart.
For more information, visit www.diamonddirectors.com today. Also, check out our Digital Magazine.
---
C.J. Stewart has built a reputation as one of the leading professional hitting instructors in the country. He is a former professional baseball player in the Chicago Cubs organization and has also served as an area scout for the Cincinnati Reds. As founder and CEO of Diamond Directors Player Development, C.J. has more than 12 years of player development experience and has built an impressive list of clients, including some of the top young prospects in baseball today. If your desire is to change your game for the better, C.J. Stewart has a proven system of development and track record of success that can work for you.