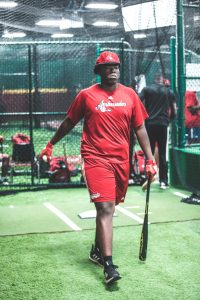 Players must have good hitting habits in order to compete. So, what about coaches? They need good habits, too. As we have discussed, talent is based on things that you do well. Habits are things that you do well repeatedly without thought. And skills are things that you do well repeatedly without thought while under stress.
Diamond Directors' hitters know there are seven parts of the swing and that it takes 3,000 reps to build a habit. That's 21,000 reps. Those parts include:
Stance/Load
Timing
Tempo
Tracking
Approach
Contact
Extension/Finish
Here three habits that I believe all coaches must have:
Communicate
Delegate
Castigate
Communicate
Coaches should communicate to their players why they selected them, how they will support them and how far they can go together. This is not easy for to do because there is no governing body that holds coaches accountable. In case your coach does not communicate this on the front end, ask him these three questions:
Why did you select me for this team?
How will you support me when I'm failing?
How far can I go as a baseball player?
Delegate
To delegate is to entrust a task of responsibility to someone. Good coaches need to communicate their standards, expectations and accountability to their hitters. We spend a lot of time telling our hitters what to do and sometime how to do it (if we have time).
Coaches need to delegate drills to our hitters and hold them responsible for executing them. If/when they do not perform the drills, we must have a plan of accountability in place so that we do not become the source of blame when hitters do not achieve their goals.
Here are some questions you should ask coaches to ensure they are delegating the right drills and the right time for you:
What are your standards for good hitting results?
What do you expect from me this season?
How will you hold me accountable for the drills that you delegate to me?
Castigate
Castigate means you will hold someone accountable for something. Coaches must hold their players accountable for the standards they have set and communicated. I have several drills for each of the aforementioned seven parts. The Stance/Load is where we start.
Standard — There are seven parts of the swing and it takes 3,000 reps to develop a habit.
Expectation — I expect you to execute 75% of the 3,000 Stance/Load Drills on your own. I expect you to execute 20% of the Stance/Load Drills in my presence—5% of these drills will be tested in your game.
Accountability — I will test your Stance/Load in practice using the Tanner Tee Hitting Deck. Your Stance/Load will also be tested during your game(s), which will determine how you need to work on it on your own and when you come to the next practice with me.
Diamond Directors has been providing the blueprint of success for diamond sports athletes since 1998. Let us assess your swing in our next Hitting Combine.
Remember: Intelligence tops being smart.
For more information, visit www.diamonddirectors.com today. Also, check out our Digital Magazine.
---
C.J. Stewart has built a reputation as one of the leading professional hitting instructors in the country. He is a former professional baseball player in the Chicago Cubs organization and has also served as an area scout for the Cincinnati Reds. As founder and CEO of Diamond Directors Player Development, C.J. has more than 12 years of player development experience and has built an impressive list of clients, including some of the top young prospects in baseball today. If your desire is to change your game for the better, C.J. Stewart has a proven system of development and track record of success that can work for you.