I've been blessed to be a blessing to countless amateur and professional hitters since 1998. I'm very effective as a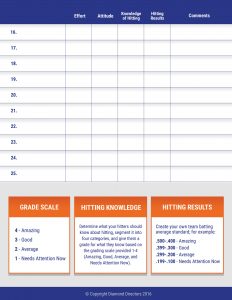 professional hitting coach, but I can only control what I can control, based on what I know.
The Athlete (25%) must have desire, knowledge and good habits
The Parents (25%) must provide encouragement and resources
The Baseball Team (25%) should be a "testing ground" for what's being developed in practices
The Professional Instructor (25%) must train his athletes based on a proven methodology, understand their learning styles and possess the wisdom to teach them what they need to know
Recently, one of my clients told me that his batting average hadn't improved much over the year we started working together. I immediately went through a checklist of what we covered. His desire to learn is amazing. His knowledge of the swing is good and he has average habits.
Possessing those three things should have enabled his batting average to increase. When we started training last year, his desire was amazing, but his knowledge of hitting and habits needed immediate attention.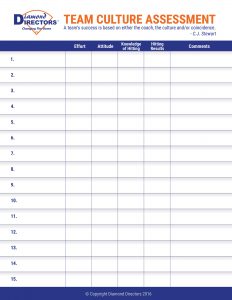 I began to realize there may be some things going on with the rest of our team (the athlete, parents and baseball team). These things must to be addressed before I take all of the blame for his batting average not increasing.
I've actually improved the most as a professional hitting coach when I've realized that I was the cause of my hitters not developing because I wasn't clear and consistent with what, when and how I was teaching them. I try to avoid failing my clients at all cost though.
Check out last week's blog – What are the Factors Behind Your Hitting Slump? – to see how I was able to get on the same page with my client about his baseball development with regards to his team (the athlete, parents, the baseball team and me).
My attempt to help you this week focuses on determining the culture of your team. A team that has players who don't meet the standard of their coaches and each other in the areas of effort, attitude, knowledge of hitting and hitting results can cause frustration for everyone. If left unchecked, that frustration can create a negative culture. And a negative culture can effective the performance of hitters in the way stats and standings.
Here are three simple things that must be done now to access the culture of your team:
The coaching staff needs to determine the teams standard (What do they require on this team?) for effort, attitude, knowledge of hitting and hitting results with a grade of 1-4.
Get your team roster and add each player's name to the chart, making sure that each player completes the form anonymously with grades. The players who are grading their teammates with regards to effort, attitude, knowledge of hitting and hitting results should remain anonymous, so that you get honest feedback.
Take an average of your grades for effort, attitude, hitting knowledge and hitting results. If the average doesn't meet the standard set by the coaching staff, you need to make some immediate adjustments. I will make some recommendations in next week's blog.
Grade Scale
4 – Amazing
3 – Good
2 – Average
1 – Needs Attention Now
Effort
Effort is a determined attempt. Amazing and good effort for coaches and players usually is lost when selfishness is present. The best way to develop the skill of effort is by getting in a habit of doing things that you don't want to do.
Attitude
Attitude is a way of thinking or feeling about someone or something. An amazing and good attitude for coaches and parents usually is lost when things don't go our way.
Hitting Knowledge
Determine what your hitters should know about hitting, segment it into four categories, and then give a grade for what they know based on the grading scale provided 1-4 (Amazing, Good, Average and Needs Attention Now).
Hitting Results
Create your own team batting average standard – for example:
.500-.400 – Amazing
.399-.300 – Good
.299-.200 – Average
.199-.100 – Needs Attention Now
Remember: Intelligence trumps being smart.
For more information, visit www.diamonddirectors.com today. Also, check out our Digital Magazine.
BIO
C.J. Stewart has built a reputation as one of the leading professional hitting instructors in the country. He is a former professional baseball player in the Chicago Cubs organization and has also served as an area scout for the Cincinnati Reds. As founder and CEO of Diamond Directors Player Development, CJ has more than 12 years of player development experience and has built an impressive list of clients, including some of the top young prospects in baseball today. If your desire is to change your game for the better, C.J Stewart has a proven system of development and track record of success that can work for you.