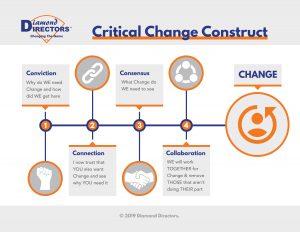 Before the word coach was used in the context of sports, it was reserved strictly for transportation. There was a horse, a coachman (who controlled the horse) and a coach where the passengers rested. A coach took you to where you were supposed to be.
As professional baseball instructors, we often complain in private and public about all the things that we dislike about the baseball industry. The problem is that while we want change, we won't change. Here in Atlanta, our soccer team is the hottest ticket in town. Across the state, baseball is losing athletes to lacrosse and Ultimate frisbee. If you don't believe me, Google it.
Here is my five-step process for change for us as coaches. I call it "The Critical Change Construct:"
Conviction
Connection
Consensus
Collaboration
Change
Conviction
Why do we need change and how did we get here?
Connection
I now trust that you also want change and see why you need to.
Consensus
What change do we need to see?
Collaboration
We will work together for change and remove those who aren't doing their part.
Change
To make different from what was.
For me, change looks like the increase of African-American student-athletes (baseball) from 2.9 percent at the NCAA Division I level to 30 percent by 2030.
What does change specifically look like for you?
Remember: Intelligence tops being smart.
For more information, visit www.diamonddirectors.com today. Also, check out our Digital Magazine.
---
C.J. Stewart has built a reputation as one of the leading professional hitting instructors in the country. He is a former professional baseball player in the Chicago Cubs organization and has also served as an area scout for the Cincinnati Reds. As founder and CEO of Diamond Directors Player Development, C.J. has more than 12 years of player development experience and has built an impressive list of clients, including some of the top young prospects in baseball today. If your desire is to change your game for the better, C.J. Stewart has a proven system of development and track record of success that can work for you.