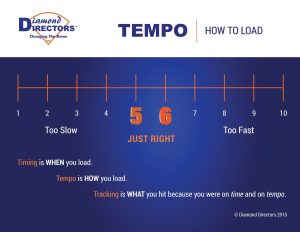 Talent is things that we do well, while habits are things we repeatedly do without thought. While talent can get you selected for a top tier Travel team, good habits is what enables you to perform. The same applies for earning a college baseball scholarship, getting drafted by the MLB and getting your dream job.
In his book, "The Power of Habit, author CharlesCharles Duhigg says that habits are built starting with a cue, a routine and a reward.
If you want to play in the Majors, you must start with the following three habits, which will help you get to a good load position, on time and on tempo.
Load — What to do
Timing — When to do it
Tempo — How to do it
The cue to getting loaded is watching as the pitcher gets ready to deliver a pitch.
The routine that you want to make a habit is getting loaded on time and with good tempo.
Why do you want to do this? So that you can drive the ball.
Every fundamental of hitting (the 7 parts of the swing) should be executed for one reason and one reason only—to drive the ball. Too many hitters confuse driving the ball with hitting it hard. Pitchers don't care if you hit the ball hard when they have position players they can trust. Balls that are driven give infielders and outfielders nightmares.
Let's go a little deeper about routines. In his book, "The Talent Code," Daniel Coyle says that it takes 3,000 reps to build a habit with deliberate practice. I believe this and I continue to develop my hitters according.
There are seven parts to the swing and each require 3,000 reps each to build a habit. That's 21,000 reps.
Stance/Load
Timing
Tempo
Tracking
Approach
Contact
Extension/Finish
If you don't have a good load, timing or tempo, it's better to build a new habit than to break an old one.
Here are three drills that you should do for 3,000 reps each to build a new habit (November-January).
Remember: Intelligence tops being smart.
For more information, visit www.diamonddirectors.com today. Also, check out our Digital Magazine.
---
C.J. Stewart has built a reputation as one of the leading professional hitting instructors in the country. He is a former professional baseball player in the Chicago Cubs organization and has also served as an area scout for the Cincinnati Reds. As founder and CEO of Diamond Directors Player Development, C.J. has more than 12 years of player development experience and has built an impressive list of clients, including some of the top young prospects in baseball today. If your desire is to change your game for the better, C.J. Stewart has a proven system of development and track record of success that can work for you.