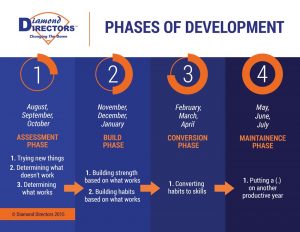 It is almost time to convert habits to skills. For my hitters, November through January is the time that we build habits and strength. February through April is when we convert habits to skills. You know what they say, "Skills pay the bills."
My hitters know that there are seven parts of the swing and that it takes 3,000 reps to build a habit. That is 21,000 reps to build a habit. It takes another 21,000 to convert that habit to a skill. Our formula:
Stance/Load
Timing
Tempo
Tracking
Approach
Contact/Extension
Skills are developed under stress. Hitting a baseball off the tee is not stressful. Hitting a quarter size target 40 feet away three out of 10 times using a tee will create stress.
How do you handle stress?
How does your coach create stress in your hitting sessions?
What are hitting goals for the season?
Are your goals easy to accomplish or will they cause stress?
Diamond Directors has been providing the blueprint of success for diamond sports athletes since 1998. Let us assess your swing in our next Hitting Combine.
Remember: Intelligence tops being smart.
For more information, visit www.diamonddirectors.com today. Also, check out our Digital Magazine.
---
C.J. Stewart has built a reputation as one of the leading professional hitting instructors in the country. He is a former professional baseball player in the Chicago Cubs organization and has also served as an area scout for the Cincinnati Reds. As founder and CEO of Diamond Directors Player Development, C.J. has more than 12 years of player development experience and has built an impressive list of clients, including some of the top young prospects in baseball today. If your desire is to change your game for the better, C.J. Stewart has a proven system of development and track record of success that can work for you.