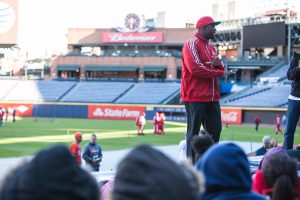 I was born and purposed to coach. And I must admit: I love the game of baseball. For more than 20 years, God has proven my calling to coach by proving me with a blueprint for developing diamond sport athletes (baseball and softball) and to receive the highest individual honors ranging from Little League to the Major Leagues.
What makes me unique is my spiritual gift of discernment and my ability to be clear, concise and consistent with what I'm teaching.
The formula is simple. It's about answering these questions:
Talent – What you can do?
Habit – What you can repeatedly do without much thought?
Skill – What you can repeatedly do without much thought while under stress?
My Diamond Directors Hitting Lab Assessment is Step 1 of a few others that allows me to help my clients reach their full potential – on and off the field. I assess players ages 5 and up, regardless of their talent and learning ability. My desire is for my clients to be successful (what you do) and significant (what you give).
My Hitting Lab Assessment is just that; an assessment. It is not an effort to teach your son and/or daughter anything about hitting. My 3K Swing Club, Diamond Skill Build and Hitting Lab takes care of the teaching aspect. Click here to learn more about these next step program offerings of mine.
The Assessment establishes context for my clients and me:
Context – Who you really are as a person, who you need to be and why you are really playing baseball
Content – What you need to learn about hitting
Contest – Your games are where you showcase and learn from what you've practiced
My Hitting Lab Assessment is seven-fold:
Parent survey
Player S.M.A.R.T. Goal Mapping
Swing Assessment
Dartfish Video Analysis
Skill Build Drills
Learning style diagnosis
60-plus Day Homework
I guarantee three things with my Hitting Lab Assessment.
We will start and finish on time
You will get an honest assessment
There will be clear next steps
It takes 10,000 hours of deliberate practice to develop a skill and within 20 years of service, I've trained hitters for more than 30,000 hours. I've earned the right, and owe it to myself not to waste my time or the time of others. I also value my energy. Time and energy for me are more valuable than money. This philosophy is what holds me accountable for being honest and clear about the next steps for my clients.
Let me pause right here to assure you that this message isn't intended to do anything short of letting you know that I'm serious about my calling and helping others. I also tell some pretty good jokes and dance a lot in our sessions!
What am I looking for from your son and/or daughter in the Assessment is:
Attitude – how you act
Adjustments – how you respond
Awareness – how you think
Aptitude – how you correct
Athleticism – how you make things happen
The good news is that all five of these A's can be taught by me.
Listening and learning styles, as well as mindset, is something you should research prior to coming in for the Assessment. You should take it for the sake of self-awareness, too.
And yes, even athletes age 5 need to learn how to listen, learn and have the right mindset. For living a life of peace alone, the earlier you learn the, the better.
Listening style 
Learning style 
Growth and Fixed Mindset 
There are millions of boys and girls in the world right now dreaming of competing at the collegiate and Major League Baseball levels. How about your son or daughter? Remember: Talent is what you do. A lack of good habits and skills will not put you any closer to competing on a collegiate and/or professional baseball field.
What is passion and why am I passionate about serving diamond sport athletes?
Passion is translated in Latin as suffering.
I dreamed of playing for the Chicago Cubs while watching games with my grandfather.
At age 8, I internalized that I wanted to play for the Chicago Cubs.
At 14, I had my first workout with the Cubs.
At 18, I was drafted by the Cubs.
At 20, I was drafted and signed by the Cubs after failing out of college twice.
At 22, I was released by the Cubs because of a lack of core values and mentorship.
Over age 40 now, I'm one of the top professional hitting coaches in America because of the failure and suffering I have sustained. It is my calling from God.
Hitting is complex, but I can make it simple.
The two things you can do right now if you're starting with me are:
Click here to schedule a 90-minute Onsite Hitting Lab Assessment
Click here to complete the Parent Assessment
It's time to get serious about your journey.
Remember: Intelligence trumps being smart.
For more information, visit www.diamonddirectors.com today. Also, check out our Digital Magazine.
BIO
C.J. Stewart has built a reputation as one of the leading professional hitting instructors in the country. He is a former professional baseball player in the Chicago Cubs organization and has also served as an area scout for the Cincinnati Reds. As founder and CEO of Diamond Directors Player Development, CJ has more than 12 years of player development experience and has built an impressive list of clients, including some of the top young prospects in baseball today. If your desire is to change your game for the better, C.J. Stewart has a proven system of development and track record of success that can work for you.