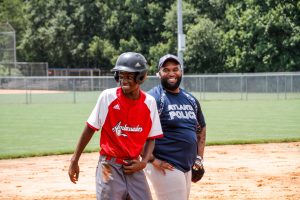 This is going to be a challenging blog for most people because I will make pitches that many will swing and miss at and some will hit out of the park. Do you love who you are right now? Is there a better version of you worth achieving.
I believe that in order to bring about change in our lives, we must round three bases.:
Context
Content
Contest
Context is the "why," content is the "what" and the contest is the "when."
There are millions of amateur baseball players in America ages 2 and up who dream of becoming a Major League Baseball. That's a great thing, because as a fan, I want the skills of baseball players to increase for my entertainment.
I used two words in the previous paragraph that are key to the success of this blog educating you—becoming and skills.
Talent is things you do well, while habits are things you do well repeatedly without thought. But skills are things you do well repeatedly without thought while under stress.
Skills pays the bills, not talent. Talent is a state of being while skills is a state of becoming. It helps you understand what you have, so that you can discover what you must get, so that you have a crystal-clear view of who you need to become to be a consistent hitter.
You can get lost in learning what's possible when being told you have talent because talent represents a state of being rather than becoming what is possible. If you get caught just thinking you have talent, you won't focus on what's more important, which is using talent to get beyond what you're currently able to do and become what you're capable of.
Commitment and discipline can and must be taught. Most amateur baseball players and parents don't understand what's best and what doesn't work when it comes to applying the commitment and discipline to the right things.
What you don't want to happen is your child getting too caught up in their talent level. When that happens, they don't believe in the need to improve. When they feel they're only being evaluated on their talent, what motivation is there to get better? Think about that for a minute.
Kids are just not able to look far enough down the road to see how they need to continue to improve for that next level, and the next level after that. I see too many kids with talent who are just not able to compete down the road because they didn't continue to develop that talent.
Remember: Intelligence tops being smart.
For more information, visit www.diamonddirectors.com today. Also, check out our Digital Magazine.
____________________________________________________________________________________
C.J. Stewart has built a reputation as one of the leading professional hitting instructors in the country. He is a former professional baseball player in the Chicago Cubs organization and has also served as an area scout for the Cincinnati Reds. As founder and CEO of Diamond Directors Player Development, C.J. has more than 12 years of player development experience and has built an impressive list of clients, including some of the top young prospects in baseball today. If your desire is to change your game for the better, C.J. Stewart has a proven system of development and track record of success that can work for you.