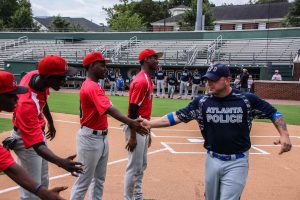 The baseball community of baseball is in the millions. Georgia, where I call home, is known as a hotbed for baseball talent. The state is considered rich with talent. Many would say it's because of all the great coaches.
How do you define coach?
I'm of the belief that the word coach shouldn't continue to be used so loosely. What does one have to know and prove to be considered a doctor, lawyer or pilot? These are three professional titles that come with a lot of accountability if things are done correctly.
And then there's the title of coach.
Before the word was used in sports, it described a means of transportation. There was a horse with a coach attached that took people from one place to another. When people got into a coach, say in Atlanta, they expected to be taken to another city at a specific time. Sure, there would be bumps and inclement weather along the way, but the overall expectations of the ride was to arrive safe and sound.
So, how is the definition of the word coach used today when it refers to a professional baseball coach?
For me, a professional baseball coach has a clear, concise and consistent philosophy, methodology, phases of development, educational content and proven success.
Professional facilitators don't have the aforementioned. But they can execute baseball activities for a professional coach.
Ignorance is not knowing, and a lot of coaches simply don't know they are hurting people until they are "called out."
Professional coaches also have a basic understanding of learning and listening styles, and at the very least understand their own learning and listening style.
What's your learning and listening style?
I was a "so-called" professional coach. The "so called" part was because I was too often hurtful to my players, arrogant and intolerant.
Professional and "so-called" baseball coaches need to be policed for three reasons:
They are hurting the chances of young players
They let their ignorance turn into arrogance and intolerance
The sport of baseball is losing too many players
There are ways to police all of those "so-called" professional baseball coaches out there. You can start by publicly calling out coaches who are hurting the game and its young players.
I've emotionally and mentally hurt several players in my almost 20 years of coaching. I ascribed to the belief that the best way to get the most out of my preteen and teenage players was to use profanity. It came to a stop when a mother had the courage to call me out in public and asked me why was I so angry.
I was angry because I was hurting from not fulfilling my dreams of being a successful Major Leaguer. I was living vicariously through my players. Because my actions were tolerated by parents and players, it became a bad habit.
Ignorance is not knowing, and a lot of coaches simply don't know they are hurting people until they are "called out." Ignorance can lead to arrogance and intolerance.
Arrogance – What I am doing is right
Intolerance – There is no need to change
As a professional coach, I ask myself three questions on a consistent basis to keep me from being ignorant, arrogant and intolerant.
What is your calling in life?
How do your players and parents feel about you today?
Why would parents allow their sons to be coached by you?
There is a national conversation about the decline of blacks in baseball. Quietly, there is a decline of baseball players as a whole. Baseball players are doing other things like playing lacrosse, ultimate frisbee and joining the band.
So, for the players and coaches who aren't paying attention because of ignorance, arrogance, and intolerance, my question to you is, "Where will you get your fans if the national love for baseball is dead?"
Coaches must do three things better – communicate, build healthy cultures and focus on more context than content.
Communicating and talking aren't the same. As a master level coach, communication for me means I have to listen and learn from those I'm teaching. Everything I say isn't right and isn't always communicated as successful as I would like it to be.  I will only know that when I create a space for them to communicate with me.
A healthy culture is one that allows the player to respectfully ask questions of his coach and, at times, disagree in an agreeable (pleasant) manner. Coaches aren't perfect and need policing.
Hitting isn't the most challenging thing to do in the world. I held on to the notion for years to make myself seem important. It just isn't that hard. If a toddler can figure out how to walk without a walking coach, a kid can figure out how to hit several pitches. Hank Aaron and Babe Ruth never had batting lessons. And they are two of the great hitters of all time. I bet money they couldn't have landed a plane safely 100 percent of the time.
The content of hitting can be figured out by players when professional coaches focus on providing context:
Context
How to listen
How to develop self-confidence
How to make adjustments
Content
How to get loaded on time
How to track pitches
How to hit the ball to all parts of the field
Remember: Intelligence trumps being smart.
For more information, visit www.diamonddirectors.com today. Also, check out our Digital Magazine.
BIO
C.J. Stewart has built a reputation as one of the leading professional hitting instructors in the country. He is a former professional baseball player in the Chicago Cubs organization and has also served as an area scout for the Cincinnati Reds. As founder and CEO of Diamond Directors Player Development, CJ has more than 12 years of player development experience and has built an impressive list of clients, including some of the top young prospects in baseball today. If your desire is to change your game for the better, C.J. Stewart has a proven system of development and track record of success that can work for you.