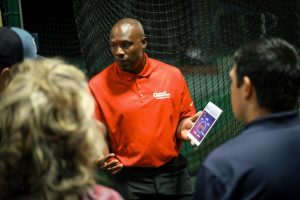 When I was in high school, I received varsity letters for football, baseball, basketball and cross country. But I knew that baseball would be the sport I'd earn a college scholarship and eventually play professionally.
Unlike the philosophy of other baseball coaches, I want players to compete at other sports. Talent is what you do well. Habits are what you do well repeatedly without thought and skills. Skills are what you do repeatedly without thought while under stress.
If you're a multi-sport athlete and baseball is going to be your ticket to a college scholarship, you better have a productive winter (after football) to get ready for spring baseball.
This is my 21st year serving in the player development industry as a swing coach. Now more than ever, I'm focused on solidifying myself as a Swing Assessment Expert because nothing, and I mean nothing, can be developed without being assessed.
Here are the top 3 reasons you should receive a hitting assessment before winter training:
You don't know what you don't know.
You don't have time to waste.
You can't go far with hope as a strategy.
I'm a trusted resource for baseball swing development. If you have a private hitting instructor, keep your instructor. My differential advantage is assessments. I will work with your private instructor to ensure you're on the right development path to reach your goals.
Sign up for my 3 FREE video lessons to learn more.
Remember: Intelligence tops being smart.
For more information, visit www.diamonddirectors.com today. Also, check out our Digital Magazine.
---
C.J. Stewart has built a reputation as one of the leading professional hitting instructors in the country. He is a former professional baseball player in the Chicago Cubs organization and has also served as an area scout for the Cincinnati Reds. As founder and CEO of Diamond Directors Player Development, C.J. has more than 12 years of player development experience and has built an impressive list of clients, including some of the top young prospects in baseball today. If your desire is to change your game for the better, C.J. Stewart has a proven system of development and track record of success that can work for you.