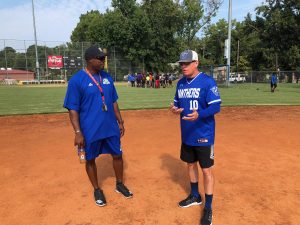 Assurance, insurance and reassurance. These three words—ideals, actually—are what should drive each of us on the road to success.
Assurance is a promise made. Insurance is compensation when something goes wrong. Reassurance is the removal of doubt that you will be taken care of when something goes wrong.
In order for us to be our best selves, coaches want assurance, insurance and reassurance.
As we have learned from past blogs, before the word coach was used in the context of sports, it was reserved strictly for transportation. There was a horse, a coachman and a coach. The coachman controlled the horse; the coach was where the passengers rested and waited. A coach took you to where you were supposed to be.
Below, I'm going to breakdown what each of these ideals means in your daily journey to be a better person—on and off the field.
Assurance
Every coach must make the promise to be authentic because everywhere we go, there we are. Coaches have access to a lot of youth and unauthentic coaches produce unauthentic players.
Being authentic requires conviction, which ultimately leads to change:
Conviction
Connection
Consensus
Collaboration
Change
Insurance
The insurance that coaches need when we fail to keep our promise of being authentic is compassionate peers, parents and players, each of whom are committed to helping us get back on the right track.
Here are some words of wisdom:
"True compassion means not only feeling another's pain, but also being moved to help relieve it." — Daniel Goleman
"Always do your best. What you plant now, you will harvest later." —Og Mandino
Both of these quote can be unpacked in so many ways for the sake of growth.
Winning baseball tournaments is often the ultimate prize as we try to prove that we are better than other coaches. According to my Pastor Dr. Craig L. Oliver, "We must learn to get above see-level."
To become the best, we must start with a God-sized goal. My God-sized goal is to be significant by serving millions and bringing them into a relationship with Christ, starting with my wife, Kelli, and our daughters, Mackenzi and Mackenna.
Reassurance
Muhammad Ali once said, "It's the repetition of affirmations that leads to belief. And once that belief becomes a deep conviction, things begin to happen."
Coaches, like most people, avoid conviction like some hitters avoid hitting outside during cold weather. In order for us to be great, we need our peers, parents and players to challenge us until we get better or until we quit.
Ever heard the quote, "Iron sharpens iron?" Well, anything being sharpened causes pain and produces hot temperature. Iron sharpening iron is also loud. The finished product will be a sharp edge that can be launched and penetrate.
Correct us when we are wrong and reassure us that you will be here to help us.
Remember: Intelligence tops being smart.
For more information, visit www.diamonddirectors.com today. Also, check out our Digital Magazine.
---
C.J. Stewart has built a reputation as one of the leading professional hitting instructors in the country. He is a former professional baseball player in the Chicago Cubs organization and has also served as an area scout for the Cincinnati Reds. As founder and CEO of Diamond Directors Player Development, C.J. has more than 12 years of player development experience and has built an impressive list of clients, including some of the top young prospects in baseball today. If your desire is to change your game for the better, C.J. Stewart has a proven system of development and track record of success that can work for you.