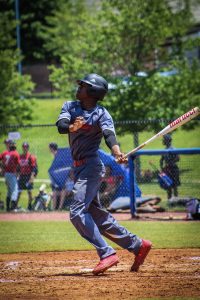 Watching your child compete in a sport feels like a sport to me. My daughters, ages 16 and 10, play tennis and are pretty good. I thought that baseball required grit, until I experienced their training and competition schedule.
A typical tennis match is 90 minutes or so. Before the match, I ask my daughters for the one thing they're focusing on. And then before that first serve, I start my stopwatch for 30 minutes.
I watch without interruption for 30 minutes, and then step away for 15 minutes, before coming back for the remainder of the match.
I don't say much, because I don't know much about tennis. However, I do know a lot about baseball development.
If I had a son, I'd do three things on game day:
Ask
Capture
Remind
Ask
Prior to the start of the game, I'd ask him to make one guarantee for today's game. The guarantee would be something within his control based on his training, but also one that makes him stretch.
Dad, I guarantee I'll be on time with my load 50 percent of the time today.
I guarantee I won't strike out looking.
I guarantee I'll hit the ball hard at least once today.
These guarantees ultimately can lead to getting hits. I'd offer an award for him meeting the guarantee expectation.
This is beneficial, because going into a game focused on getting hits when you aren't prepared only causes unnecessary stress. It's about like being disappointed you can't fly an airplane if you haven't met the criteria to do so.
Did you know that it takes 21,000 hitting reps to build a habit, and another 21,000 to convert the habit to a skill and another 21,000 to maintain to skill?
Stance/Load x 3,000 reps
Timing x 3,000
Tempo x 3,000
Tracking x 3,000
Approach x 3,000
Contact x 3,000
Extension/Finish x 3,000
Capture
If I had a son playing baseball, I'd have to focus on a task during the game or else I would find myself complaining and blaming.
My Diamond Directors' clients have the option of capturing their sons and daughters swings using the Dartfish Express app. They're able to upload the swings to my private Diamond Directors TV channel, which allows me to make audio and written analysis.
Stat sheets and verbal game summaries are good. As a Master Level Hitting Coach, I want to see video, because the red Dartfish eye doesn't lie. Click here if you would like to join me in my Online Hitting Lab.
Remind
At the end of the game, when the time is right, I'd remind my son to personally commit to his promise.
To avoid the crazy expectation of getting a hit and trying to change his swing during every at bat, I'd challenge him to commit to one way of hitting for sets of 10 at bats, regardless of the outcome.
So, if a coach, or even me as a parent wants him to try something different, he can respectfully decline until the 10 at bats are complete. Be all in for 10 at bats.
Ask. Capture. Remind. This undoubtedly, truly can allow parents to be effective teammates for their children, many of whom already feel the pressure of performance in baseball.
What are one to three things you'd do to keep under control as a parent at your child's baseball/softball games?
Remember: Intelligence tops being smart.
For more information, visit www.diamonddirectors.com today. Also, check out our Digital Magazine.
____________________________________________________________________________
C.J. Stewart has built a reputation as one of the leading professional hitting instructors in the country. He is a former professional baseball player in the Chicago Cubs organization and has also served as an area scout for the Cincinnati Reds. As founder and CEO of Diamond Directors Player Development, CJ has more than 12 years of player development experience and has built an impressive list of clients, including some of the top young prospects in baseball today. If your desire is to change your game for the better, C.J. Stewart has a proven system of development and track record of success that can work for you.