The most important thing you can do before attending a college baseball showcase is to be evaluated. That's what we're here for. My onsite Hitting Lab at Diamond Directors is nothing short of amazing. I'm able to offer the same service online with my Online Hitting Lab.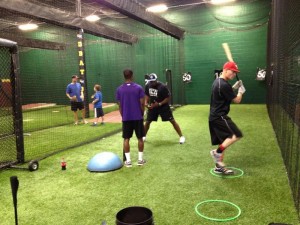 Does it make sense to showcase your talent if it is undeveloped? In our Online Hitting Lab, I'm going to break your swing done into six parts and offer an analysis and prescription of the Skill Build Drills.
Our proven methodology will help you get ready to attend your showcases and camps. If you aren't a D-I prospect, don't attend D-I showcases. With a little research, you'll be able to find some amazing baseball being played and scouted at the D-II and D-III levels.
Allow me the privilege to assess your tools and provide some Skill Build Drills before you pay for your next showcase. Being at the right place at the right time is important, but being ready for a showcase is more important.
Remember: Good hitters don't work hard; they work smart.
For more information, visit www.diamonddirectors.com today.
BIO:
C.J. Stewart has built a reputation as one of the leading professional hitting instructors in the country. He is a former professional baseball player in the Chicago Cubs organization and has also served as an area scout for the Cincinnati Reds. As founder and CEO of Diamond Directors Player Development, CJ has more than 12 years of player development experience and has built an impressive list of clients, including some of the top young prospects in baseball today. If your desire is to change your game for the better, C.J Stewart has a proven system of development and track record of success that can work for you.