As the spring season draws to a close, summer baseball nears. Spring baseball not only enabled you the thrill of competing for your school, it gave you a chance to work on your swing development. Now it's time to compete against the best the nation has to offer in baseball. When this summer season ends, you should know where you rank among the best.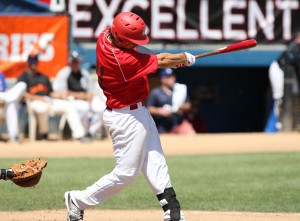 So, are you ready for the summer season? Let's find out.
Are you able to get loaded on time 90 percent of the time?
If a sprinter wants to win a race, he must get ready, get set, and go. But in hitting, it's extremely difficult to repeat a good approach and consistently get hits if you can't get loaded on time. For high school players, getting lots of hits could bring you a college scholarship. If you are serious about being ready to hit, check out my Timing Skill Build Drill.
Are you able to repeat your approach 70 percent of the time? 
College and professional scouts are looking for a good swing that you can repeat. If the pitch is in the strike zone, you should rip hit between the gaps. Good hitters a hit lot of balls between the right and left center field gaps. How often can you repeat your swing for every 100 balls you hit? Check out my Swing Assessment Test to see how you rank.
Do you have productive at-bats 50 percent of the time?
Productive at-bats lead to lots of hits. Lots of hits lead to positive reports among collegiate and professional scouts. You have had a productive at-bat if you…
1. See at least six pitches per at-bat
2. Hit the ball hard anywhere
3. Draw a walk
4. Execute an offensive situation (i.e., hit and run, advance a runner, hit a sacrifice fly)
5. Get a hit
You always reap what you sow. So, if you want to be on the top of the list of scouts, follow what I've outlined above.
Remember: Good hitters don't work hard; they work smart.
For more information, visit www.diamonddirectors.com today.
BIO:
C.J. Stewart has built a reputation as one of the leading professional hitting instructors in the country. He is a former professional baseball player in the Chicago Cubs organization and has also served as an area scout for the Cincinnati Reds. As founder and CEO of Diamond Directors Player Development, CJ has more than 12 years of player development experience and has built an impressive list of clients, including some of the top young prospects in baseball today. If your desire is to change your game for the better, C.J Stewart has a proven system of development and track record of success that can work for you.