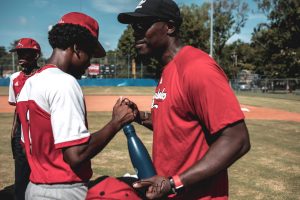 "Are you in good hands?" That famous tagline from Allstate Insurance implicates that assurances are promises made. Insurance is compensation when something goes wrong. Reassurance is the removal of doubt that you will be taken care of when something goes wrong.
My promise to my hitters is that I will remain engaged during their struggle. That's what empathy is all about. That's what coaching is all about. Now, there is a point when I will give up on student. In fact, I have two reasons why I will give up on a hitter (which we will cover in future blogs).
When something goes wrong with my hitters, they know I have what they need, when they need it.
The mission of Diamond Directors is to provide the blueprint of success for diamond sport athletes—baseball and softball. This will also be a legacy that lives beyond my time on earth. It is the reassurance that I will take care of my hitters when something goes wrong because my mission to living a life of significance is tied to their success on and/or off the field.
So, are you in good hands?
Diamond Directors has been providing the blueprint of success for diamond sports athletes since 1998. Let us assess your swing in our next Hitting Combine.
Remember: Intelligence tops being smart.
For more information, visit www.diamonddirectors.com today. Also, check out our Digital Magazine.
---
C.J. Stewart has built a reputation as one of the leading professional hitting instructors in the country. He is a former professional baseball player in the Chicago Cubs organization and has also served as an area scout for the Cincinnati Reds. As founder and CEO of Diamond Directors Player Development, C.J. has more than 12 years of player development experience and has built an impressive list of clients, including some of the top young prospects in baseball today. If your desire is to change your game for the better, C.J. Stewart has a proven system of development and track record of success that can work for you.