I don't know about you, but I'm so excited that baseball is back. April is the official start of the season, with the best baseball players in the world receiving the best baseball instruction.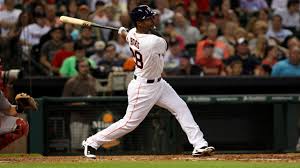 We all know that chicks dig the long ball, but here are three things that must happen in order for you to go yard.
Get loaded on time I would dare say that amateur hitters spend 90 percent of their time working on developing their swing mechanics. The remaining 10 percent is spent improving their timing (when to get loaded) and tempo (how to get loaded). The top professional hitters will get to a good loaded position 90 percent of the time. This allows them to repeat a good approach 70 percent of the time, while hitting the ball hard 50 percent of the time and getting a hit 30 percent of the time. If you don't spend quality time mastering the skill of timing, you'll have a lot of time watching games as a fan.
Take time to track the pitch Once MLB hitters get loaded on time, they immediately use their ball tracking skills. They need time to do that. Using Dartfish Technology (Dartfish.com), advanced hitters give themselves 1-1.5 seconds of time to track the pitch after they load and before they approach the pitch. So the load works separate from the approach. The two fundamental skills are not rushed together.
Put smooth swings on good pitches Getting loaded on time to track pitches allows advanced hitters to complete their swings without falling off balance. Their swings are smooth like running water no matter what the pitcher throws. The exceptional Major League hitters aren't laboring to hit. It's not maximum effort. Remember that all things that work because of good mechanics. Swings that work allow hitters to get loaded on time with time to track pitches and are smooth. Take some time to learn from the pros on television and/or at a Major League stadium near you.
Remember: Good hitters don't work hard; they work smart.
For more information, visit www.diamonddirectors.com today.
BIO
C.J. Stewart has built a reputation as one of the leading professional hitting instructors in the country. He is a former professional baseball player in the Chicago Cubs organization and has also served as an area scout for the Cincinnati Reds. As founder and CEO of Diamond Directors Player Development, CJ has more than 12 years of player development experience and has built an impressive list of clients, including some of the top young prospects in baseball today. If your desire is to change your game for the better, C.J Stewart has a proven system of development and track record of success that can work for you.