By Barbara Greene
Summer's here, which means it's tournament and showcase time. These opportunities represent a transition for players as they focus on playing baseball in college or the pros. Transitions in sport usually are coupled with excitement and anxiety. Scouts, stopwatches, video cameras and watchful eyes can cause your anxiety levels start to creep into the red zone. Under these conditions, a very consistent player easily can turn into a frustrated one. Here are seven tips you can use to help maintain your cool and keep your performance consistent during those summer games and tournaments.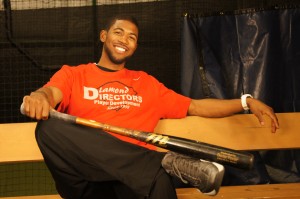 No. 1: Stay in the present – Your anxiety level can sky rocket thinking about scholarships or an opportunity to turn pro. If you find yourself thinking about the future, refocus on the present. Thinking about anything other than the present detracts from performance and is out of your control. Refocus on today – one day at a time, one pitch at a time.
No. 2: Focus on your strengths – Showcase games attract athletes of different skill levels. Some athletes find it hard not to look at others players and make comparisons. Comparing yourself to other athletes is a form of negative self-talk and can hurt your performance. If you find yourself starting to make comparisons, know your strengths and review them in your mind. Reviewing your strengths will help you maintain focus and keep your confidence high.
No. 3: Relax and play ball – Putting pressure on yourself to play the perfect game or "show them your best stuff" can negatively impact performance. Scouts, coaches and managers don't expect to see a perfect you. They want to see an athlete with good skills they can continue to develop. Relax and focus on being the athlete you are on a day-to-day basis, and show them you can make adjustments.
No. 4: Take a deep breath – Deep breathing is a good way to bring your anxiety level down. Deep breathing also centers your mind and brings your focus back to the present.
No. 5: Go to multiple tournament/showcase games – For your first game, go in with a plan to observe, learn and gain experience while performing your best. Think of it like taking your SAT more than once. Going into the next game, you know what to expect. Athletes who know what to expect are more relaxed.
No 6: Be a spectator – If you're in your first years of high school, attend showcase games as a spectator. Walk around, watch the drills, watch some games, watch the scouts and make some notes. Think about areas you must develop over the next few years.
No. 7: Focus on your skills – Simply focus on using the skills you've honed over the years during practice for your time at the plate. Keeping that focus naturally will help keep you calm and allow your best skills to translate into performance.
BIO:
Barbara Greene is a sport performance consultant with Pure Performance Inc. She can be reached at 404-729-6326 or via email at BarbaraAGreene@aol.com. Follow her on twitter @BGreene1