For kicks and giggles, I decided to look up the word "development" at dictionary.com on my iPhone, since the word so often is used in baseball. The definition goes like this: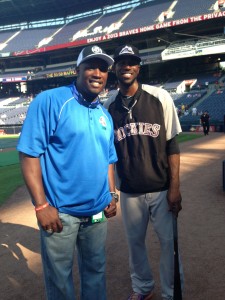 I love the feeling of coaching hitters who can't see further than having a good upcoming season. Jason Heyward and I talked about him hitting home runs in the Majors with the Atlanta Braves when he was 13.
So, how does that happen?
To do so, there are three things you must develop as a baseball player:
No. 1 – Know how to measure success
Success in baseball is based on scoring more runs than your opponent. To do that, you need hits. A team chalked full of .300 hitters makes winning really easy. To dig deeper, sustainable success is realized when those hitters have productive at bats. Relieve yourself from stress by working on the root of success. Without productive at bats, you won't get a lot of hits, which means your team won't score a lot of runs.
No. 2 – Set a goal and stick with it
A smart goal in any season of baseball competition is to have a productive at bat 50 percent of the time. A productive at bat occurs when you:
* Hit the ball hard regardless of the outcome
* Draw a walk
* See at least six pitches
* Execute an offensive situation such as a hit and run or advancing a runner from second to third, and third to home
In my 15 years of developing elite hitters like Dexter Fowler and Andrew McCutchen from teenagers, I can assure you that you will get a hit 30 percent to 40 percent of the time if you have a productive at bat 50 percent of the time (depending on the level of competition).
No. 3 – Be allowed to fail
Like seeds are sown into the ground and allowed to grow, players should be allowed to develop their goals in competition. It is crucial that you understand development includes failure. Let me repeat that: Development includes failure.
The fall season prepares you for the spring and summer season, so failure in the fall is a means to an end. Failure would be not having a productive at bat 50 percent of the time this fall. Commit to maximizing your practice time by focusing on developing the skill of having productive at bats, so that you can work on it further in your games.
Remember: Good hitters don't work hard; they work smart.
For more information, visit www.diamonddirectors.com today.
BIO:
C.J. Stewart has built a reputation as one of the leading professional hitting instructors in the country. He is a former professional baseball player in the Chicago Cubs organization and has also served as an area scout for the Cincinnati Reds. As founder and CEO of Diamond Directors Player Development, CJ has more than 12 years of player development experience and has built an impressive list of clients, including some of the top young prospects in baseball today. If your desire is to change your game for the better, C.J Stewart has a proven system of development and track record of success that can work for you.